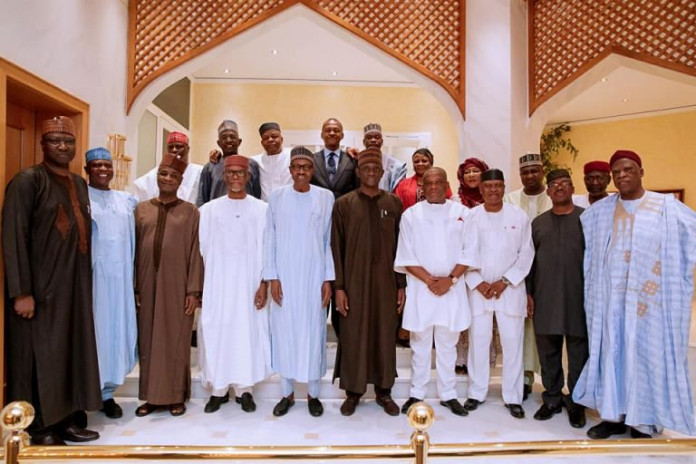 President Muhammadu Buhari on Thursday declared that his military background made him not to rush in taking decisions or doing things.
This, he said, was because he had to be really critical about his actions.
The attribute, it would be recalled had drawn the anger of many Nigerians who described him as rather too slow.
An instance was the long period it took him upon resumption of office to appoint minister.
It took him no fewer than six months for him to take the action.
Speaking during a dinner with the leadership of the All Progressives Congress, APC, at the Presidential Villa, Buhari said he believed in doing things slowly and steadily.
According to him, that did not mean that he was not aware of the problems confronting the people of the country.
Said he: "I felt I had to invite you to let us eat together and I tell you that I am sitting here very much aware of the problem in this country. I will always reflect on historical antecedents.
"I decided to drop the uniform and come back here (to be president of Nigeria), so I have gone through it over and over again. This is why I am not in a hurry to do anything. I will sit and reflect, and continue to (operate) with my clear conscience…
"In some quarters, they are now calling me 'Baba Go Slow'. I'm going to go slow and steady," he said.
Also at the occasion, the president debunked the insinuation that he was against certain sections of the country, particularly, the South East.
He said despite the number of votes he got from that part of the country, he did not discriminate against it in the appointment of members of his cabinet.
"There is something that hit me very hard and I am happy I hit it back at somebody. Seven states of the north are only represented in my cabinet by junior ministers, ministers of state.
"In south-east, I got 198,000 votes but I have four substantive ministers and seven junior ministers from there.
"You are closer to the people than myself now that I have been locked up here, don't allow anybody to talk of ethnicity. It is not true."
He added:  "There is one thing that disabused my mind in a dispassionate way about ethnicity and religion across the country. You know that tribunal for presidential election started at Court of Appeal. The president was my classmate. I missed only four of the court sittings.
"For that first phase, 2003, we were in court for 30 months. My legal leader was Chief Ahamba (SAN), an Igbo man. He asked the panel of judges to direct INEC to produce the voters register to prove that the election was done underground.
READ ALSO: Again, Boko Haram attacks Madagali, kills 5
"When they came to write the judgment, they completely omitted that. Another Igbo man, a Roman Catholic, in the panel of judges, wrote a minority report.
"I went to the Supreme Court. Who was the chief justice? An Hausa Fulani, a Muslim from Zaria. After 27 months, Ahamba presented our case for two hours and 45 minutes. The chief justice got up and said they were going on break and when they returned the following day, they will deliver the judgment. They went away for three months. That was what made it 30 months.
"And when they came back, they discussed my case within 45 minutes.
"In 2007, who was the chief justice? A Muslim from Niger State. The third one (in 2011), who was the chief justice? My neighbour from Jigawa State. The same religion and the same tribe."