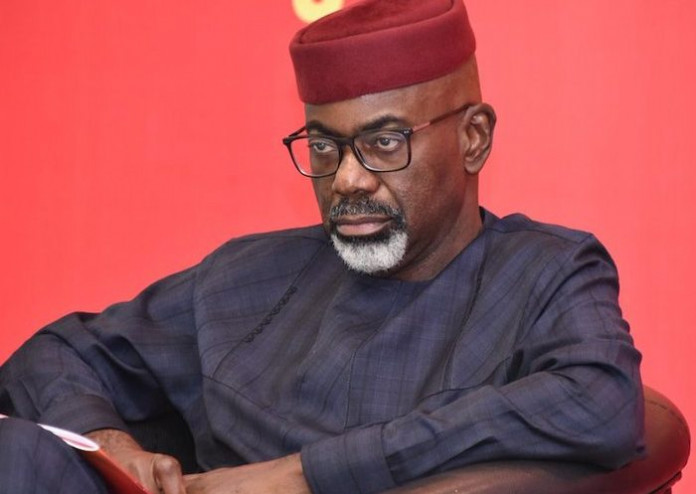 Since he became Governor of Cross River State in 2007, Liyel Imoke had maintained a dignified silence on the tenure of his predecessor, Donald Duke.  As a result, many have accused him of protecting his former boss by refusing to speak about what Mr. Duke left behind as governor of the state. On the contrary, Mr. Duke had lashed out at his former deputy at every available opportunity.  However, Mr. Imoke has finally snapped out of his muteness and for the first time opened the Pandora Box and revealed: How Donald Duke Plunged Cross River Into N100 Billion Debt
Your predecessor, Donald Duke, has on a number of occasions attacked you, but you have refused to speak out. The latest is an interview he granted an online publication, where he pointedly said, "The Death of Cross River State happened in 2007." That was when you became governor. Did Cross River State really die in 2007, when you took office?
Let me begin by saying that the reason I have not spoken all this while is three-fold. Number one is my respect for the office of governor, which we both occupied, and what it represents. Number two is the commitment to the success of the Cross River State project, irrespective of our differences; and, number three – and more importantly – the fact that telling it as it is about Tinapa, for instance, would have made it near-impossible for any investor to take a second look at the project, which has cost the government and people of Cross River State over N100 billion in contingent and other liabilities. I didn't want to put the death knell on this white elephant.
One of the values my father instilled in us is humility in service and to let the works of our hands speak for us. My silence over the years in the face of unbridled attacks and false accusations by Donald would be better understood in relation to the role God used me to play in Donald's political development.
Let me give you a bit of a background to the political evolution of Cross River State during the time under scrutiny. In 1996, a group of us came together in Lagos under my leadership to chart a new course for Cross River State. I had already served as a senator and I leveraged on the relationship and clout I had garnered during my short stint in the Senate. When I suggested that he run for governor, Donald hesitated; the sentiments at the time did not favour someone of Efik origin emerging as governor especially without any political pedigree.
I was thereafter saddled with the burden of delivering an otherwise difficult candidate, in both the party primaries and the general elections. Though an uphill task, the rest is history. Senator Gershom Bassey and a few others were part of this, and I am sure they can tell the story better. He talked of a blueprint in the interview he granted but conveniently failed to recall that the said blueprint was developed in my house on Victoria Island in Lagos. Tinapa was not part of that blueprint.
Contrary to what Donald would have everyone believe, Tinapa failed before he left office. It was poorly conceptualised and became a burden on the state in the course of its execution. There were several policies and regulatory issues that should have been addressed either before or in the course of project implementation, as Cross River State did not have the capacity and resources to carry the burden of sustaining a going concern of that magnitude.
The project was financed with loans of billions of naira guaranteed by the state and the Federal Government. The project was supposed to pay for itself; it never did, because there were no investors. Private money only goes where it makes business sense. And the fact that no one other than the bankers to the state government, who were coerced and threatened with loss of patronage, invested in Tinapa, is clear indication of its failure ab initio in both conceptualisation and execution. All in all, it was at best, a project not based on any economic or fiscal realities and can best be described as a fantasy of the imagination.
There was not up to N80million of private money in the multi-billion naira Tinapa, yet, it was touted as a 'model public-private partnership (PPP)', without any element of a well-developed PPP structure. Tinapa was touted and advertised on DSTV at the expense of the poor people of Cross River State. Local government funds were used by him for his outlandish and unsustainable project. Feasibility studies were altered to suit his convenience, as confirmed by the consultants to the project, KPMG, with last minute add-ons like Studio Tinapa.
Needless to say, the state government defaulted on the N40 billion loan repayment that had fallen due while Donald was still in office. The Federal Government guarantee was called by the banks before Donald left office because the loans fell due and there were no investors or private sector partners to manage Tinapa and ensure the loans were serviced. Debts fell due and yet he continued to borrow even beyond N40 billion. Tinapa became an albatross before he left office.
It was a misconceived project, commissioned with equipment hired from abroad by a company called Dream Entertainment; all of which vanished after the commissioning. Tinapa was commissioned with no tenants, no gazette, no fiscal policy framework or regulations and no operating guidelines. This explains why the private sector did not buy into the project. It was commissioned without completing the hotel and the waterpark which I eventually completed.
In May 2007, the month I was sworn in as governor, the Federal Government made its first huge monthly debt service direct deduction of N900 from the state account. There were other loans from local banks, the ECOWAS bank and other financial institutions that had all fallen due for repayment; some of them Dollar denominated. I was saddled with the heaviest debt burden of any state in this Federation, with over 50 per cent of all the state revenues going to service the various questionable loans, thereby making it literally impossible for the state to meet its recurrent obligations, including salaries and overheads. Yet, I did not say a word of criticism. I was accused of protecting him at my own expense. Recall that in 2007, he ran for the office of president, largely on the perceived success of Tinapa. Rather than expose the facts, I chose to remain silent.
I actually incurred further debts to save the white elephant. The United Bank for Africa (UBA) had called the federal guarantee, and Donald asked me to move the state account to Oceanic Bank so we could get a facility through the then Managing Director, Cecilia Ibru, who he was close to. We used some of these funds to complete the hotel, the waterpark, and the outstanding infrastructure, including the dualisation of the City Gate to Tinapa Road. This is just to give you the background so you are better informed on the issues in focus.
Why did you still push on to see that Tinapa, the 'white elephant' as you describe it, would not die?
Given the huge debt burden which the state carried, I had no choice but to make every effort to get Tinapa to work to reduce the financial haemorrhaging. We took a number of steps to revive Tinapa, including our negotiation with the Assets Management Company of Nigeria (AMCON), to take over the facility and bring in an investor, which was eventually scuttled by the same Donald; but that is a story for another day.
We went into a partnership with Ebony Life TV for the use of the otherwise moribund Studio facilities. We introduced a game and amusement arcade and converted one of the warehouses into a small conferencing facility.
We subsidised rents and offered further incentives to potential tenants just to increase the footfall, and in the case of T-Mart, a retail outlet sponsored by Donald, rent was free.
We located the ICT hub, 'Tinapa Knowledge City' in Tinapa. The hotel and the waterpark were completed and furnished and became fully operational.
READ ALSO: PDP Primary: Atiku names Iwuanyanwu, 58 others into presidential nomination council
We invited Silverbird and several other such companies to take up the movie theatres but they declined after doing their viability studies. In spite of all the efforts, Tinapa remained unattractive because of its initial misconception by Donald.
But Mr. Duke said the difficult part of the Tinapa project had been done. Given your hands-on experience on the project, will that position be correct? And if so, which is the 'easy' part that held the project back?
Contrary to what Donald wants the public to believe, the brick and mortar was actually the easy part; borrow money, pay Julius Berger and they will build what you want. The hard or difficult part is making it work; and after our own analysis – which he knows – it clearly showed that Tinapa could not work for reasons earlier stated not to talk of other critical infrastructure requirements like construction of  access roads into Calabar – for example the Port Harcourt/Calabar Road, a functional duty-free seaport and an expanded airport – all of which were outside the control of the state government and needed the buy-in and financial provisioning in the budgeting of the Federal Government.
None of these was provided for during the three-year development and construction phase of Tinapa. That to my mind is the hard part. Shopping malls are built on the basis of signed agreements with anchor tenants, who will open shop immediately upon completion, but there was none. There was not a single anchor tenant in Tinapa at commissioning.
So, Donald failed to do all that was necessary but instead busied himself building brick and mortar without thinking about how the project would work. So, he commissioned the project with fanfare and at great cost, and there was no Walmart.
Well, he says you drove away Walmart. Did you drive away Walmart?
He is accusing me of driving Walmart away! But there was no Walmart!  An organisation like Walmart would never commit to operating in a place like Tinapa with all the issues I have enumerated above. Only an illiterate would think that this could happen. If in the three years of project development and construction and up to commissioning, Walmart was not in Tinapa, how do I get accused of driving Walmart away? Furthermore, free trade zones are on the Exclusive Legislative List, and state governments can neither legislate nor regulate free trade zones. And yet Tinapa was a free trade zone. So, Donald puts billions of naira of state funds into a project over which the state has no operational or regulatory control. During the three years of construction, he did not think it wise to either partner with the Federal Government or get the federal government to approve a special fiscal policy or regime for Tinapa's operations. To him, it was obviously an afterthought.
I eventually obtained the gazetted regulations for Tinapa, which were unfortunately inadequate, from the new administration of President Umaru Musa Yar'Adua in 2008, more than a year after Donald had left office, by which time Tinapa was already in its debt throes. Of course, Donald's nonchalance and arrogance to the President-elect at the commissioning of Tinapa certainly did not help our case.
Just to ensure I gave the project a fighting chance howbeit slim, I retained the managing director, of Tinapa, who Donald appointed, for the purposes of continuity for the duration of my tenure. That MD was Bassey Ndem. I must give Bassey Ndem credit for literally making a little out of nothing. He kept the place running, howbeit with a heavy subsidy from the state government for power, staff salaries and other sundry expenses. It is instructive to note that it was also the same Bassey Ndem who managed the project during the construction phase.
Mr. Duke also attacked you for building the Convention Centre and that it is not functional.
That's typical of Donald. It is difficult for him to acknowledge or give credit to anything he did not initiate. Therefore, I am not surprised at all. It is, however, ironic for him to say the Convention Centre is not functional. In actual fact, the Calabar International Convention Centre is fully functional and far more utilised than Tinapa. He, Donald, has attended more events at the Calabar International Convention Centre than he has visited Tinapa. The state-of-the-art facilities in the Calabar International Convention Centre have continued to attract major events, conferences and meetings from within and outside the state with attendant economic impact.
Another sore point he touched on is the issue of continuity. Is it true that you did not continue with projects he initiated after he left office?
I have always believed that it is in the public interests that on-going projects inherited by an administration be completed and utilised to serve the public good. I made sure that every single project that Donald had left uncompleted received attention. 
There were various projects which fell into this category that we completed. Some of these include the dualisation of the City Gate – the Tinapa Gate Road. People sometimes forget that this was a single lane road. The Lemna Road, even though Lemna was a bad construction company, and only existed in Cross River State and did very bad work, we still completed the dualisation of the Lemna Road. The street lighting which was limited to Marian Road, the Urban renewal program which was limited to Calabar Municipality amongst others.
The Obudu Mountain Resort was not left out. We brought in Southern Sun as operator/managers of the facilities. They eventually pulled out of the management of the ranch because it was unprofitable. We then had to find ways and means to sustain the ranch, because the ranch model wasn't working, especially with the huge cost of maintaining a cable car, which was not utilised because the ranch itself has 150 rooms, and the occupancy rate was well below 50 per cent; of course most people preferred driving up the ranch to using the cable car. So even though the cable car was supposedly an attraction, it was certainly not a revenue earner. We subsidised the cable car to the tune of N20 million monthly. The Ranch suffered the loss of patronage after two aircraft crashed around Bebi with the unfortunate loss of lives. We upgraded the safety and landing facilities at the Bebi Airstrip to avoid any other air disaster.
So, which other projects you inherited from Mr. Duke did you complete?
Well, one other project I can easily mention is the Obudu Mountain Race; we kept the Mountain Race going, amongst other things, until I left office; in fact, we took it beyond where we met it. I grew the Mountain Race and it became the African Mountain Championships. That's just the value addition to that project, as we did with regards to everything he left behind. Of course, the Calabar Carnival, another project which he started, we continued and added value to it.
We continued on the projects we inherited in spite of the huge debt burden of over N100 billion left behind by Donald. This huge debt overhang was as a result of Donald's outrageous and ill-conceived vision, without any recourse to economic reality. He ignored the critical partnership needed with the Federal Government, particularly with regard to infrastructure and policy, in developing viable and sustainable tourism. It was all centred around him and his person, which meant none of them was sustainable. Because the projects were not economically viable, we spent a good part of the state's resources subsidising the operations of a number of his projects.
Let's take you back to Tinapa, specifically on the issue of Walmart. Mr. Duke said you prevented Walmart from coming to Tinapa even though President Obasanjo had signed them on. Did President Obasanjo sign on Walmart?
It is at times like this that I really wonder if all its well with Donald. President Obasanjo never signed Walmart for Tinapa. On his allusions about Walmart, I would have thought that when you are constructing a shopping mall facility, if Walmart is going to be your anchor tenant not only would they have signed an agreement pre-construction, but they would also be present at the commissioning. Furthermore, President Obasanjo left office in 2007 along with Donald. So when did this Walmart issue happen? We need to set the records straight. I have never, ever rejected any investor that wanted to come into Cross River State. As a matter of fact, I should say it is to the credit of my administration that we brought in General Electric as a huge investor into Cross River State; we also brought in Wilmer, the largest oil palm producing company in the world, as a major investor into Cross River State at no cost to the state government. We also brought in SPAR which built the ultra-modern shopping mall on the Cultural Centre premises during our tenure. So why would we not welcome Walmart?
Again, I think it's important that we understand and appreciate that Cross River State became an investment destination during my tenure, and we put the right policies in place for that to happen, including setting up of the Investment Promotions Department for the first time in the government of our state.
To be continued…