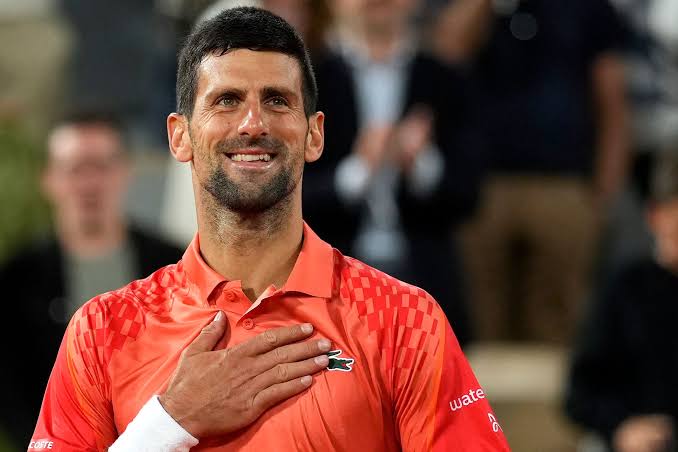 Novak Djokovic kept his focus on the court amid his latest controversy as he saw off Marton Fucsovics in the second round of the French Open on Wednesday.
The French sports minister had weighed into the continued fall-out over Djokovic's decision to write "Kosovo is the heart of Serbia" on the camera after his first-round victory at Roland Garros.
Amelie Oudea-Castera said the message amid violence in the north of the country, which is not recognised as independent by Serbia, was not appropriate.
She then warned Djokovic not to repeat the action.
He later told Serbian media he would do it again.
But, after the 7-6 (7-2) 6-0 6-3 victory over Fucsovics, he opted just for a signature and smiley face.
Things were not straightforward on the court though during an 87-minute first set when, unsettled by breezy conditions and an in-form opponent, Djokovic was pushed hard.
He double-faulted serving for the set and was pushed to a tie-break.
But, having overcome that hurdle, the third seed was almost flawless.
A lost set was not enough to take the smile off Carlos Alcaraz's face as he defeated Taro Daniel to move through to the third round of the French Open.
Taking on the Japanese player on a breezy Philippe Chatrier, world number one Alcaraz won the first set easily.
READ ALSO: EFCC Arrests Popular Musician, 31 Others Over Alleged Internet Fraud
But his opponent fought back at the start of the second.
It proved only a temporary blip, though, as the young Spaniard dominated the final two sets in a 6-1 3-6 6-1 6-2 triumph.
"I'm really happy with the level that I played today," said Alcaraz. "I overcame the problems in the match because of the wind and it has been a really complete match from my side, and I'm really happy with that."
Alcaraz's positive attitude and sunny disposition have made him not just popular with his rivals but also made some of them rethink their own approach.
Stefanos Tsitsipas had to thank the Spaniard during a practice session.
"I'm winning all the time because I am smiling," said Alcaraz, who next faces Denis Shapovalov. "And I always said that smiling for me is the key of everything.
"I enjoy being in this kind of stadium, these kind of tournaments, cities. That's the most important thing for me to enjoy, and that's why I smile all the time."
Tsitsipas joined Alcaraz in the third round with a 6-3 7-6 (7-4) 6-2 victory over Roberto Carballes Baena.
But former champion Stan Wawrinka lost out in the match of the day, going down in five sets to Thanasi Kokkinakis.
The Australian would have felt that was justice after his epic defeat by Andy Murray at his home grand slam in January.
"It definitely feels better when you come out on the winning end of those," said Kokkinakis.
"I had a heart-breaker against Andy earlier in the year and not many moral victories. It was a tough one to take. You can't count these guys out no matter how old they are.
"They get better and better, and you can see why they are multiple grand slam champions.
"Stan is a legend. Still is, obviously, but he was a legend out on court today. He was very nice, very respectful. Hats off to him.
"The crowd was going nuts for him, but it's a fun atmosphere. I love playing against that. So, it was awesome."
Meanwhile, sixth seed Holger Rune was given free passage through to the third round.
This was after Gael Monfils called a press conference late on Wednesday evening to announce he was pulling out of their clash scheduled for the night session on Thursday.
He said it was because of a wrist injury.(dpa/NAN)