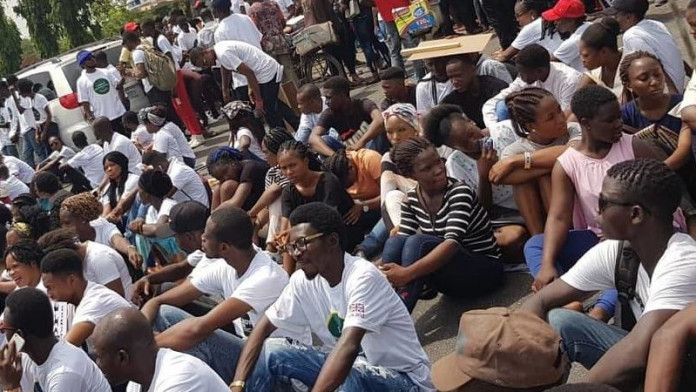 The Federal Government on Sunday announced the dissolution of the much disliked Police Anti- robbery Squad (SARS).
The dissolution, announced via a statement signed by the Force Public Relations Officer, Frank Mba, on behalf of the Inspector-General of Police, Mohammed Adamu, is coming after days of #EndSARS protests across several states of the country and Abuja.
Below are some reactions from social media users.
Eki loui; "SARS hasn't ended, The IGP is basically saying in his released statement that they'd be reassigned and another version of SARS will be established. All I see is a rebranding and restructuring, The fight is apparently just beginning"
Ayeni Adekunle; "I'm sorry -but the IGP should be resigning, not addressing a press conference. The president should be announcing the resignation or sack of the IGP, apologizing to Nigerians, and communicating the scrapping of SARS
Along with measures govt will take to make sure there are consequences for all found guilty."
Ice Chris; "We need a signed and sealed order dissolving sars, because this has happened before and we would not fall for it,
We demand that the President has to be seen giving the orders on Live TV
The Senate Pass it into Law
That is the only way we know it's done
No backing down "
Debo Macaroni; "It is not over until it is over!!!!! Nigerian Youths demand for a Better country! A Nation where we are safe and that we are proud to call our own!! We will secure our present and our future!!! The Youths of this generation will birth a New Nigeria!!!"
READ ALSO: Kidnapped Nasarawa ex-commissioner Regains Freedom, Says Kidnappers Now Operate Shifts
Apostle Johnson Suleman; "IGP just announced SARS has been dissolved…that's not enough..we want an executive order to that effect.."
Demola Grey; "Still doesn't sit right with me. Redeploying only means more of the same. How do we hold them accountable?? How do we ensure we still aren't harassed by the same people in different baffs?"
Lota Chukwu; "If we see a SARS official on the street after today, are we allowed to tell them they are rogue and not fear getting harassed or losing our lives? This is the real change we're demanding.
A ban beyond a press release."
Tuned Leye; "People are being shot at right now at the Abuja protests.
It's that thing again. Zero consequences for police officers that do this.
It is why prosecution of SARS officers who have been criminal in the past is a must. Impunity thrives when there are no consequences"
KOmg Clay; "We need a court order !!! A signed document , all current SARS operative summoned and their riffles taking away from them. If that does not happen then it's not working. You cannot ban rouges and leave them armed."
Jim Iyke; "SARS has been dissolved, and I'm genuinely overwhelmed.
But don't be carried away.
1. Let Buhari give an executive order
2. Let's see the implementation of this dissolution.
Rejoice, but don't be distracted!"