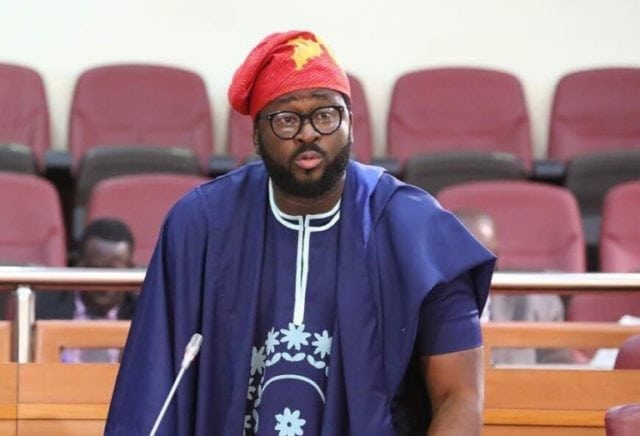 Social media users have condemned the call by Nollywood actor turned politician Desmond Elliot for the federal government to place a ban on foreign films.
In an interview with HipTV, the Lagos state House of Assembly member had called on the Federal Government to be very intentional about Nigeria's Film industry and handle the ban like it did the one on importation of rice.
"First they need to create an enabling environment for this industry to thrive. Secondly, they need to consciously, intentionally focus on building the industry. Treat it like you're importing rice. You know, so you ban all foreign content. You know, make it difficult for foreign content to come in, so your local content can grow, " he said.
Nigerians, however, are not impressed by his comments as their reactions on social media show.
@GbemiDennis
"Hon Desmond Elliot would have made more sense advocating for strengthening copyright laws rather than proposing a ban on foreign movies.
"But what do I know when I no be Nigerian 'honourable'."
@Dimz_i_am
"Desmond Elliot, truth is banning foreign movies won't make Nollywood grow. With the Shii Nollywood produce week in week out???
You are practically telling us to give up watching the likes of Game of Thrones, Endgames, Lion King, etc to those baseless movies you call films???"
@jt_niyi
"I think "Desmond Elliot" intentions are good but his proposed approach seems to be wrong.
Rather than pushing for a bill to ban foreign movies, he should have asked for a 60% ratio increase in local content from the NBC on movies showed on tv, cinemas etc…"
@Baybie8
"So, as young as Desmond Elliot is, this is what he can come up with as a solution to help Nollywood grow.
He did not ask for a film village to be built, did not ask for funding o! He wants foreign movies banned.
This country is in SERIOUS TROUBLE"
@Collin3356
"How can someone leave the village and come to the city, and within 6months you are a billionaire..did you include traffic in that 6months??‍♂️It can only happen in Nollywood
You want to reduce our brain to Talopa Chief ?‍♂️?‍♂️?‍♂️?‍♂️"
@holuwafemi_002
"Dear Desmond Elliot
Your supplier mix the Igbo with some other substances.. please change your supplier and stop talking nonsense
Signed
Concerned Nigerians"
Elliot in his acting career appeared in over two hundred films including Men Who Cheat, Yahoo Millionaire and Atlanta.
In 2008 Elliot co-produced and co-directed the movie "Reloaded" which received 3 nominations at the African Movie Academy Awards in 2009.