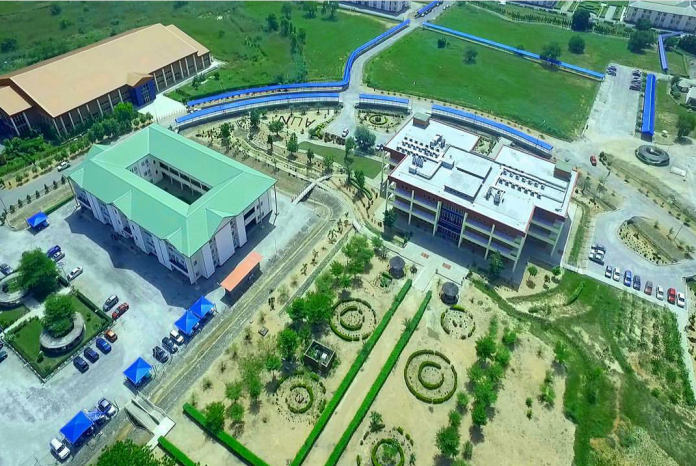 The UNESCO's Institute of Statistics indicates Nigeria has 71, 351 degree-seeking students outside its shores but many believe the number may be far higher.
Records show the international student market in the UK is worth more than $17 billion with Nigeria rated the third largest contributor of students to schools in the country
Many Nigerian dailies have reported that over 75,000 Nigerians studying in Ghanaian universities with over a billion dollars spent annually for tuition and living costs.
Apart from Ghana, there is thriving Nigerian student population in countries like Benin Republic, Sudan, and even Uganda. These are countries hitherto not known for attracting international students anywhere in the world.
Campus France reported that Nigeria's outbound students grew by a staggering 45 percent from 2010 to 2013 and by another 30 percent from 2013 to 2015 before slowing down in 2016 due to obvious economic constraints.
Top destinations for Nigerian outbound students are the United States, United Kingdom, Ghana, South Africa and Canada.
It is further estimated that about one-quarter of African students enrolled in the U.S are from Nigeria.
Many questions come to mind when considering these very alarming patterns as regards Nigerians and their universities of choice.
In fact, parents play an overriding and very constant role in choosing where their children and wards get a university education.
Despite the very high costs, it is quite bewildering Nigerian parents still prefer overseas higher education to what is available in the country.
Several factors come to mind amongst which are the incessant strikes, which not only increases the number of years students spend in school but also the quality of degrees they obtain at the end of the day.
Others include the lack of a conducive learning environment especially because many Nigerian universities are struggling with cultism, a rape culture and sexually predatory lecturers that ask for sex in exchange for grades.
However, this is not to say all things have gone sour for Nigerian university education. Far from that.
The major question is whether getting an overseas university education is worth it or even necessary for an average Nigerian.
The Myths
Not all university education abroad is great. This is without a doubt as factual as they may ever be.
There is currently an ongoing trend of Nigerian students flocking into countries with an obviously low quality of higher education.
Examples are African countries like Benin, Togo, Uganda and even Ghana with an obvious dearth in quality university education and inferior infrastructure and very weak system of accreditation processes for academic programs, courses, and teaching methods.
Also is the case with some Southeast Asian countries like Indonesia and Malaysia where despite their obvious economic growth and sophistication still have a lot of work in ensuring quality in the educational services their higher institution provide.
More alarming is the drastic fall in standards most of the once revered university destinations in parts of the Western world currently have.
Quite importantly, quality university education is about instilling knowledge, increasing opportunities and teaching needed skills to function in globally competitive space.
It is the ability to inspire and grow students to think for themselves, question the status-quo and adopt practicable solutions in solving community-wide problems and immersing one's self in community involvement.
While authorities and persons in the Western world are seriously concerned with the gradual erosion in the quality of their education, this has not been the case for a large number of Nigerians who have sent their children to study in such schools abroad.
Another myth in Nigeria about studying abroad is the thought acquiring a degree from a university overseas automatically translates to getting a great job or securing overseas employment. Statistics, however, show the opposite.
Most countries in Europe, Asia, and North America that are top university destinations for most Nigerian higher education seekers are now making it more difficult for foreign students to gain employment after graduation.
Part of the reason is the growing resentment towards internationalism across the world, which at the long run entails a preference in countries with a large population of foreign students for the nationals first.
This rising trend is an obvious obstacle to young Nigerians known for the educational adventurism who then are demoralised and frustrated by the apparently diminishing opportunities available for them.
A Better Option At Home
The idea of a liberal arts education is to develop students' critical thinking skills; promote individualism and idealism through academic freedom and ignite a passion for solving problems in the society.
The idea of a global education is to gather different perspectives and views and to understand from different backgrounds, the information and knowledge garnered which in turn lead to a sophisticated, better-cultured and advanced society.
When considering liberal education with a global perspective and community involvement as one of its many ethos, the American University of Nigeria (AUN), is most definitely a better option for any Nigerian still thinking of schooling abroad.
Why AUN?
An American styled university which is the first of its kind in sub-Saharan Africa, AUN is not only a better alternative for attaining qualitative global education but also the emerging destination for the best talents you can find anywhere on the African continent.
Founded in 2004, academic activities commenced in September 2005 and has since grown into a campus of about 1,500 students pursuing undergraduate, graduate and professional level education of the very highest global standard.
With four schools namely; the School of Arts and Sciences, School of Information Technology, School of Business and Entrepreneurship as well as the School of Law and a School of Graduate Studies with a community-based institute for professional courses, AUN is as dynamic as they come.
The approach of the university is simple; building an army of highly skilled young Nigerians and Africans with a people-based approach towards problem-solving in society and effectively entrenching development.
For current President of the university, Dawn Dekle, AUN is not only Nigeria's best-kept secret but also the perfect alternative for anyone hoping to attain quality higher education as heavily craved for anywhere in the world.
In American higher education terminology, the president is an equivalent of the vice chancellor in the Nigerian university system.
AUN's immediate past President, Margee Ensign aptly describes the university as a place where "young people are confronted by real problems in society then try to work on them and by trying to solve them, changes the way they think, and it changes the discussions in the classroom."
This problem approach to learning not only cultivates the next generation of leaders obsessed with development and making a society-wide impact across the board.
The tuition fees as with other fees covering feeding, board and technology utilities run up to about N1.5million per semester, a little more than $4000 which when compared to the amounts Nigerians pay for university education is quite a decent and better option.
Not to also forget that despite being able to attract the elite and thriving middle-class of Nigeria to the university, its concerted effort towards societal inclusiveness as seen close to a thousand students over the years benefiting from one form of financial aid to another.
Not to forget that over 25 percent of the current student population are benefiting from the universities emphatic scholarship/financial aid package.
With faculty comprising of top-class educators, industry experts and professionals from over 33 countries, the quality of teaching and research is of international standard.
This is obviously a stark contrast with our people get from mostly Eastern European, Southeast Asian and sub-Saharan African countries that have surprisingly become their prime university destinations.
The richness, diversity, and quality of the faculty alone bring with itself depth, expertise and international context to the learning environment and allow students to immerse in and learn with absolute ease.   The university is in a constant redefinition of itself, an approach that is clearly working.
Under its immediate president, Prof. Ensign, AUN created a niche for itself as a development university with an emphasis on community involvement and a commitment to development being central to its academic experience.
The new president is aiming not only to expand the university's scope of influence regionally and but to also position itself as a cluster for the best talents that abound across Africa, through which the university can make more societal and region-wide academic impact.
AUN's use and availability of technology in its teaching, research, and overall administration are one of the best in the continent.
With a highly sophisticated data infrastructure endorsed by Google because of the traffic generated by the campus, it is surprising how one would leave the comfort of a better option at home to search and pay for education with watery quality in regions not particularly known for prestige or excellence in academics.
Another exciting aspect of AUN is the fast-growing international student community, which proves it is surely capable of reaching its goal as the hub of the best talents anyone can find on the African continent.
In its 12 years, AUN has attracted students from South Africa, Ghana, Cameroon, Democratic Republic of Congo, Uganda, Rwanda, Ivory Coast, Burkina Faso, Chad, and Zambia, to name a few.
Not to also forget students from the U.S, UK and Pakistan have also studied at the university as either full-time undergraduates or exchange program students.
Boly Djamal, a Burkinabe student told The NEXT EDITION, "AUN is a dedicated liberal arts university impacting the region and instituting development achievements."
This is not only a testament to the university's rising global appeal but also the quality of education offered.
A former Central Bank of Nigeria (CBN), Governor and one-time world banker of the year, Charles Soludo, has described the university as "just like a top school you can find in the States, UK or Canada."
Mr. Soludo said this while delivering a keynote address during the university's Founders Day in 2014.
The university is also creating a niche for itself with alumni who work in globally recognised firms. It is known for breeding outstanding graduates with skills to compete in the global labor market.
A dedicated approach towards preparing its students for the travails of the labor market thanks to a dedicated career department and close-circle university networking that help students and graduates alike access the best of opportunities in the very competitive job market.
Today, Google, Mckinsey, KPMG, General Electric, New York Times among others reputable firms have AUN graduates amongst their ranks, besides a strong network of established and growing entrepreneurs making headway in business across Africa.
By upholding the myth better education can only be acquired abroad, the Nigerian society has for long fritter billions of scarce funds.
More condescendingly, it has put itself at a risk whereby the citizenry cannot trust the country to develop people with 21st-century skills needed to build a strong and sustainable economy.
The good news today is there is a very good alternative at home that should be the first choice, not only for the privileged but also for every Nigerian with a seething thirst for knowledge, the willingness to be diligent with a profusion of merit.
The AUN is, therefore, far from being Nigeria's best-kept secret but obviously the best option for any young person willing to "learn, unlearn and do."