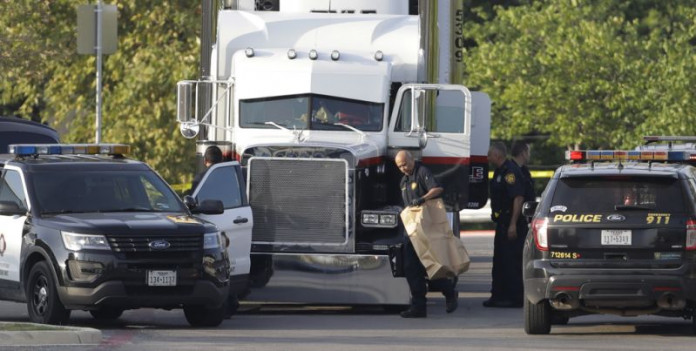 A U.S. official says the death toll from people found in the back of a sweltering tractor-trailer in the parking lot of a San Antonio Walmart has risen to 9.
Thomas Homan, acting director of U.S. Immigration and Customs Enforcement, told The Associated Press that two people died in a hospital. Eight dead bodies were found in the truck.
Based on initial interviews with survivors, Homan says there may have been more than 100 people in the truck. Thirty-eight were found inside. The rest are believed to have fled or been picked up.
Homan says some survivors have identified themselves as Mexican nationals. Four of the passengers are believed to be between 10 and 17 years old, and at least one of them is in serious condition.
Temperatures in San Antonio reached 101 degrees (38 Celsius) on Saturday and didn't dip below 90 degrees (32 C) until after 10 p.m., according to the National Weather Service. The truck's trailer also didn't have a working air conditioner system, San Antonio Fire Chief Charles Hood said in a news briefing.
A person from the truck initially approached a Walmart employee in the parking lot and asked for water late Saturday night or early Sunday morning, police Chief William McManus said. The employee gave the person the water and then called police, who found the dead and desperate inside the truck.
McManus said the driver was arrested, but he didn't release the driver's name. He also said some of those in the truck ran into nearby woods, leading to a search. A helicopter could be seen hovering over the area after daybreak.
Investigators checked store surveillance video, which showed vehicles arriving and picking up people from the truck, authorities said. They didn't say whether the trailer was locked when they arrived, whether they think the truck was used to smuggle the occupants into the country or whether it planned to make other stops.
The police department later said the Department of Homeland Security's investigative arm, Homeland Security Investigations, was taking the lead in the case and would be issuing all further updates.
Investigators could be seen gathering evidence from the truck on Saturday, hours after those who were inside — living and dead — were taken away. The trailer had an Iowa license plate but no other markings. The truck was parked on the side of the Walmart and the investigation didn't appear to be interfering with commerce, as customers could be seen coming and going from the store.
The have been deadlier immigrant smuggling cases in the U.S., including one in May 2003 in which 19 immigrants who were being transported from South Texas to Houston inside a sweltering tractor-trailer died.
Prosecutors said the driver in the 2003 case heard the immigrants begging and screaming for their lives as they were succumbing to the stifling heat inside his truck but he refused to free them. The driver was resentenced in 2011 to nearly 34 years in prison after a federal appeals court overturned the multiple life sentences he had received.
The Border Patrol has reported at least four truck seizures this month in and around Laredo, a U.S. border city about 150 miles (240 kilometers) southwest of San Antonio. On July 7, agents found 72 people crammed into a single truck "with no means of escape," the agency said. They were from Mexico, Ecuador, Guatemala and El Salvador.
Authorities in Mexico have also made a number of discoveries of large numbers of people being trafficked in such vehicles in dangerous conditions over the years.
Last December, Mexican immigration officials found 110 migrants trapped and suffocating inside a truck after it crashed while speeding in the Gulf coast state of Veracruz, which is a main migration corridor for Central Americans heading to the U.S. Most of the migrants were from Central America, and 48 of them were minors. Some were injured in the crash, but there were no fatalities.
Last October, also in Veracruz state, four migrants suffocated in a truck that was carrying 55 people, most of whom were from Guatemala. Many of the survivors were found to be severely dehydrated and had not had food or water for several days.
The migrants were locked in the back of a truck that was made to look as if it belonged to the Mexican mail service, according to immigration officials, who added that the migrants had paid about $930 apiece to be smuggled from Guatemala to the U.S. border.
Sometimes traffickers use vehicles that are smaller but still dangerously crowded.
In August 2016 a speeding van carrying 26 migrants from El Salvador, Honduras and Guatemala turned over in the northern Mexican border state of Nuevo Leon, killing five of the occupants.