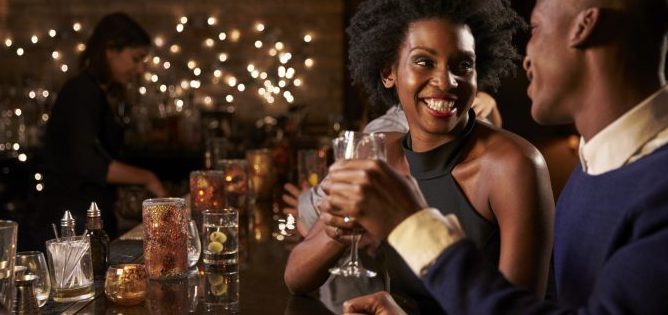 "Please don't assume we're going to the nicest restaurant in the city because I won't take you there. I'll take you to a dive bar with amazing burgers to see how you react. If you're flowing with it and cool, we've got a winner. If you seem offended by it, that's as far as we go."
—Steve M.
Don't Over-Research
"Girls should try to avoid pre-judging before a first date. Whether it's someone you're meeting online or it's someone your friends know, aim to drop the things you know about them and start fresh. Don't ask your friends to tell you everything they can because you can end up with a tainted view of what to expect. Half the fun of going out is getting to know someone new, so allow yourself to let that happen organically." —Oliver B.
"Please don't compare us to your exes —out loud or even in your head. Sometimes horror stories about them can make for fun discussion, but don't ever bring your ex into the conversation if it's not called for. When I hear about a girl's man, I'm assuming we probably shouldn't be on that date period. If she literally can't keep his name out of her mouth for a couple of hours, it makes me feel like she's clearly not over past issues. I don't want to pick up a saved video game: I'm here to start new."
—Orlando O.
It Pays to Pay (Or at Least Attempt To)
"I always appreciate the offer to split the check, even though I never allow it. If we end up grabbing drinks later and a woman insists on paying, I really like that a lot. It shows me that she's genuinely interested in spending time with me as opposed to wanting to be wined and dined regardless of who she's with." —Nate N.
You Are What You Eat
"The food you choose on dates says volumes about your character. Dainty foods (read: salads) seem to have a low correlation to fun and enjoyment. First few dates, make the food good, simple and completely forgettable so you can focus on each other." —Max S.
But Don't Recoil If He Doesn't Reach for the Bill…
"If the guy doesn't say something and take the check off the table to pay, it's probably fair to assume that you're going Dutch. There are different reasons that a guy might not pick up the tab (some that might not have anything to do with you), but if you're into him, avoid looking too disappointed. You don't want him to think you expected it." —Josh F.
"I like a girl to be confident going into a date, even if it's the first one . The normal guy-girl interactions on initial outings usually fall somewhere between awkward and really awkward (which is understandable, especially if it's a blind date), so having a girl go the opposite route not only makes her more intriguing—it's also a total turn-on."
—Alex S.
Be Honest
"Say what you mean. Girls have this tendency of expecting guys to read between the lines, then ending up disappointed. If you want something, be specific and avoid causing yourself unnecessary stress. We're usually pretty open to new ideas." —Adrian B.
To be continued…
Source: Cosmopolitan