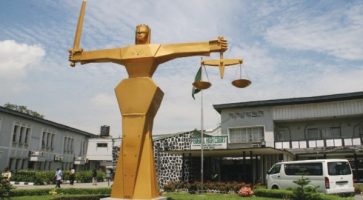 Three people, including a policeman, found guilty of the 2012 murder of four students of the University of Port Harcourt have been sentenced to death.
The verdict was given on Monday by the Federal High Court sitting in Rivers State.
The condemned men are a police sergeant, Lucky Orji, Ikechukwu Amadi and David Obada.
The court headed by Justice Ledan Nyordee, however, discharged and acquitted four other people.
Discharging and acquitting some of the arraigned suspects, the court said the case of murder against the 4th, 5th, 6th and 7th accused persons were not proved beyond every reasonable doubt.
It would be recalled that the students who are now referred to as Aluu 4 murdered on October 5, 2012, had approached a debtor to pay up.
However, the debtor falsely accused them of stealing mobile phones and laptops in Omuokiri-Aluu in Rivers State.
The students were consequently rounded up and murdered under the excuse that they were robbers.
The murdered students are:  Lloyd Toku-Mike, 19, TekenaFriday Elkanah, 20, Ugonna Kelechi Obuzor, 18, and Chidiala Loroson Biringa, 20.