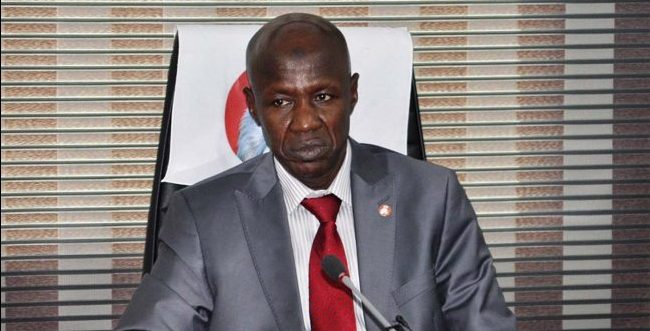 The Chairman of Economic and Financial Crimes Commission, EFCC, Ibrahim Magu has reiterated his vow to go after corrupt officials no matter how highly placed.
The EFCC boss stated this on Monday while fielding questions from journalist during his visit to the Makurdi Zonal Office.
Magu who insisted that the fight against corruption is beyond political, social or tribal inclination said the last two governors indicted by the commission for corrupt purposes were all members of the All Progressives Congress, APC.
"There is no political inclination. You can't turn me round. If you are corrupt, we go after you and we usually conduct preliminary investigation before your invite and if you are invited, it means there is something."
He noted that in the past, big men from Nigeria go abroad to throw parties saying "These days, it no longer happens. They no longer attend flashy parties especially when they travel abroad. I think the fear of EFCC is the fear factor."
Magu who said corruption is a disaster bedeviling the country noted that incidences of corruption are still high.
He however, said the EFCC has put up a dogged fight against the manace to the extent that it is no longer business as usual, " and it is not as reckless as it used to be."
READ ALSO: P&ID Corruption Saga: EFCC Arraigns Former Director In Petroleum Resources Ministry
Speaking on the establishment of a Zonal office in Benue in December, 2018, Magu said the desire to mobilize everybody to be part of the fight against corruption informed their decision.
"We wanted our services to reach out to everyone especially those at the grassroots. Corruption has eaten deep into our country. It is like the rain that is beating every body. So we must take everybody along and we cannot do it alone.
Magu, who said he was in Benue to sensitize and mobilize indigenes against corruption solicited support and cooperation of every indigene of Benue state to fight the menace.
The EFCC boss noted that the commission has gotten a lot of court convictions of fraudsters in the zone adding that they have also embarked on raids which have yielded positive results in arresting yahoo boys, fraudsters and others committing one crime and another.
Referring to the media, Magu said, "You must also realize that you have a responsibilty in the fight against corruption. As journalists you are corruption hunters and for us to succeed you must be partners as investigators."
He also disclosed that whistle blowing is still ongoing and that it is working. "Whistle blowing is working and we are paying. What causes the delay in paying is that sometimes, we have to go through the rudiments of court. It takes time and it has to be completed before we can pay," he added.