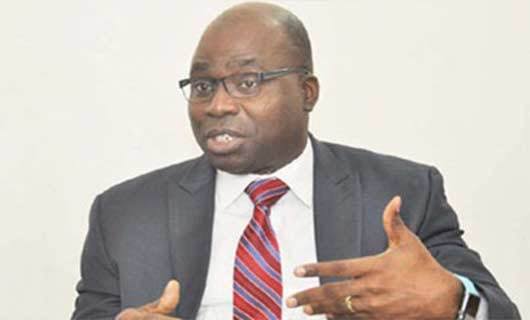 Prof. Bolaji Owasanoye, the Chairman, Independent Corrupt Practices and other Related Offences Commission (ICPC), has described corruption in education sector as stealing the future of the country.
Owasanoye stated this in Abuja at the annual ceremony of the 4th National Summit on Diminishing Corruption in the Public Sector with the Theme: Corruption and the Education Sector.
The event was organised by ICPC in collaboration with the Office of the Secretary to the Government of the Federation (OSGF) and the Joint Admissions and Matriculation Board (JAMB).
It is aimed at highlighting corruption issues bedeviling the Education Sector and providing solutions to tackle the menace.
The ICPC boss said that the commission in collaboration with the National Universities Commission (NUC), National Board for Technical Education and Joint Admission and Matriculation Board (JAMB) to prevent corruption in the education sector.
"This year we have chosen the theme: Corruption and the Education Sector because corruption in education has been rightly described as stealing the future education being the medium for transmission of knowledge and values.
"Once education sector is corrupted the foundation for future ethical leadership and labour force is destroyed," he said.
Owasanoye stated that corruption in education manifests in different ways such as recruitment of unqualified or unfit persons to teach at primary, secondary or tertiary levels.
He said admission racketeering; examination malpractice, diversion of revenue for and within the sector, operation of illegal academic institutions especially at the tertiary level, abuse of power and procurement rules by management were things of concern.
He explained that in response to the recent epidemic of sexual harassment in the education sector has led to the creation of a special team on investigation and prosecution of sexual harassment in secondary and tertiary institutions.
"In collaboration with civil society, we are in the process of introducing a model policy on sexual harassment for academic institutions to adopt.
"We have also secured some major convictions including that of a professor.
"With JAMB and DSS, we conducted in 2021 a series of undercover operations across the country on corruption in the university admissions processes leading to the busting of syndicates and arrest of its leaders responsible for compromising IJMB and JUPEB," he said.
According to him, the commission in collaboration with the Budget Office and stakeholders met with some MDAs on the recurring surpluses in their payroll to determine proactive measures to improving the budget process.
He said this was done towards separating outright fraud from administrative lapses.
He maintained that ICPC reviewed of special funds meant to improve education delivery such as UBEC and TETFUND revealed continued abuses and breach of procurement standards and compromise of statutory mandates.
He added that while a System Study and Review on SUBEB in six states for 2019-2020 revealed that the intention of UBE law to support states to improve basic education was frustrated by lack of commitment by state governments in not providing matching grants amongst other defaults.
He said, "the capacity and commitment of states and tertiary institutions to access UBE fund and TETFUND respectively as anticipated by law remains highly questionable.
READ ALSO: Police Confirm Arrest Of hospital CMD For Allegedly killing Girlfriend, One other
"In support of government's effort to improve revenue generation, the Commission continues to investigate diversion of tax and other statutory revenues as part of routine investigation and has recovered N1.264 billion this fiscal year.
"As part of the efforts to sanitise the public service and upscale integrity, the Commission has been collaborating with the OHCSF to flush out fake appointments and screen candidates for appointment to position of permanent secretaries amongst other initiatives.
"The findings thus far indicate that many prospective appointees are implicated for financial impropriety, corrupt practice, failure of code of conduct standards and substance abuse.
"The commitment of the Head of Service to clean up the stable by effective pre appointment screening is commendable and ICPC will continue to play its part."
The Minister of Education, Malam Adamu Adamu, said that Nigeria must fight corruption to be liberated, adding that differences could be made in all sectors no matter how bad it was perceived.
"Nigeria has a bad reputation of being a corrupt society. Nobody will change that except us. At a moment, you see people condemning corruption and the next moment, they engage in it.
"We have to sincerely fight it otherwise this nation is doom," Adamu stated.
He, however, commended the leadership of JAMB for achieving what no other agencies had achieved in recent past.
President Muhammadu Buhari who declared the summit open also presented a Public Service Integrity Award on Mr Daniel Amah, a Superintendent of Police for displaying exceptional courage and integrity in the discharge of his duties.
The summit which featured panel discussion on topics such as "Corruption and Special Initiatives to Improve Education e.g the Safe Schools Initiative."
Also, "Corruption at Primary and Secondary Schools – Corrective Measures", Corruption and Regulatory Initiatives at the Polytechnics and Colleges of Education" and "Corruption at University Level and Education Regulatory Challenges". (NAN)