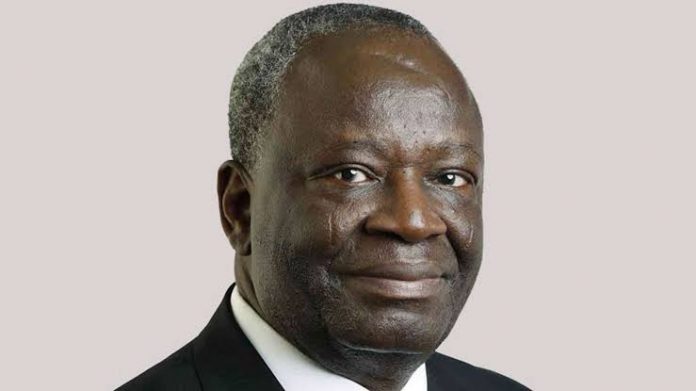 In the book of 1 Samuel chapter 8, the Holy Book tells the story of Israelites demanding a king for themselves.
In verses 10 to 18 of that chapter, Samuel who was the bridge between the Israelites and God warned them that they were inviting trouble on their heads by demanding a king.
He went to great lengths to point out the wickedness which the king whom they sought would mete out to them just to dissuade them.
He told them: "And in that day you will cry out because of the king, whom you have chosen for yourselves…" but they would not heed his advise. And so, they got king Saul and of course, they "smelled rod" in his hands.
It is finally official that 79 year-old Professor Ibrahim Gambari is the new Chief of Staff to President Muhammadu Buhari.
He has assumed office, replacing the late occupant of the Chair, Abba Kyari, who on April 17, 2020, succumbed to COVID-19 related death.
He was said to have been aged 67, though there was no consensus on that.
Kyari, was a man not liked by many because he was seen to have taken on more powers than his office qualified for and unfortunately, the President couldn't do anything about that.
When he died, therefore, many hoped that liberation had come. In fact, a Commissioner in Kano State, lost his job due to perceived unfavorable comments made about Kyari and his death.
The former Commissioner for Works, Mu'az Magaji, in a post on his Facebook said: "It's very very important we put things in perspective so that we can save our system from punitive unconstitutional usurpers in the future!
"Democracy & democratic equity does not by itself strive.. It must be guarded and protected… One person, just one person can set a dangerous precedence!
"When you are all done with the pretence and crocodile tears, we will do a review in overriding interest of the Nation and its people!"
He went on to suggest that the office of the Chief of Staff be divided into two to whittle down the amount of power domiciled in the hands of one individual.
This is just one commentary on the last man who occupied the CoS chair.
And now Gambari! If such comment as above was said about Kyari, what then is to be said about Prof. Ibrahim Gambari?
Well, Ambassador Dapo Fafowora, former Nigerian Ambassador to the United States had this to say of the new CoS: "Now, he may be the kind of person Buhari is looking for to succeed Abba Kyari as CoS. They are very much alike but Gambari is more subtle and even more dangerous and will substitute the national interests for his own personal interests. I have no doubt about that.
"I think it important that the character of our top govt officials should be revealed and not covered up. We have, as a nation, paid dearly for supporting appointments to high office that are often detrimental to our nation. Enough is enough and this has to stop."
In an article written in 2005, Mr. Omoyele Sowore, Publisher of Sahara Reporters, said of Gambari: "Professor Ibrahim Gambari, who some people claim is an intelligent man, used his 'intelligence' to defend the draconian policies of the Abacha regime while he was Nigeria's Permanent Representative at the United Nations. He was one of Abacha's equivalents of the "goebel" representing the infamous dictator with vigor and a propensity that could only be found in fascist Italy of old.
"If the Abacha repressive regime were a soccer team, Professor Ibrahim Gambari would be one of the "1st eleven players."
Professor Gambari has served almost all the dictators that have scorched the piece of earth known as Nigeria.
He was once quoted as saying, "Nigerians don't need democracy because democracy is not food. It is not their priority now."
It has been said of Gambari that he was "notorious and ruthless in defending and deflecting attacks against the Abacha dictatorship."
As United Nations Ambassador, Gambari vigorously defended the Abacha regime's execution of Ken Saro-Wiwa, calling his group of activists "common criminals."
But some have also argued that Gambari brings a lot of experience and intelligence to the table.
To that one can pose the question, are there no young Nigerians who can bring experience and intellect as well as likeability to the table?
After all, in the award of degrees, institutions of higher learning would say of graduating student that he/she has been found worthy in learning and in character.
Gambari, who was born on November 24, 1944, will be 79 this year. While one does not disparage or disrespect old age, because we all pray to attain old age, certainly at the age of 79, Gambari would be lacking in the vigour that is needed to pilot the affairs of the country.
Already, the nation is unfortunately saddled with an elderly, and sickly president. To further burden it with an elderly and perhaps sickly Chief of Staff is indeed too much.
Even Gambari's much acclaimed intelligence would have depreciated by now, age having taken its toll.
At this period of Coronavirus pandemic when Nigerians are looking for who to give them direction, an ancient Chief of Staff to an equally ancient number one citizen, is an absolute disservice to Nigeria.
Nigeria and Nigerians deserve better, and before Gambari's kinsmen from Kwara begin to scream discrimination, there must surely be young, vibrant, intelligent and experienced individuals from the state. Kwara can definitely do better than this.
No doubt Gambari and Buhari have come a long way.
He served as the Minister for External Affairs between 1984 and 1985, during Buhari's regime as Military Head of State.
When asked to validate or discredit insinuations that Buhari was dictatorial, in an interview with The Guardian newspaper 34 years after, he responded, "I don't know."
Continuing he said: "As I said, I am not part of the administration now; I am not an official adviser of any kind. I want the administration to succeed."
It is good to reward friendship and loyalty, but at the expense of national wellbeing?
One Twitter user, Olaudah Equiano, reacting to Gambari's appointment said; "Prof. Ibrahim Agboola Sulu-Gambari, the new Chief of Staff to the president, was Buhari's Minister of External Affairs during his military dictatorship 36 years ago! President Buhari doesn't make new friends. He sticks to his old cronies who are mainly Muslims and northerners."
What has happened to the resolve to bring the youth on board to prepare them to take over leadership?
Of course the congratulatory messages have been pouring in from the high and mighty, all making reference to his education, intelligence and experience.
But are those enough?
One commentator said: "Professor Gambari is mentally qualified as CoS but he is physically not fit for the office. A younger man ought to fit the bill better. Prof Gambari an ardent PDP member and candidate of the Cartel may upset the Aso Rock Cabal given that General Buhari is unavailable."
In his first interface with journalists at the State House, Prof. Gambari stated clearly that he owed allegiance first to his boss.
He said: "I don't report directly to the nation, I report to the President."
He pledged to offer the President his loyalty, competence and support, adding that his guiding principle as Chief of Staff would be "to serve the President to the best of my ability."
He has stated his mission. Nigerians have been told in clear terms that it's not about them.
READ ALSO: ZONING ANAMBRA GOVERNORSHIP: THE ANTITHESIS
The most unfortunate thing for Nigerians is that unlike the Israelites, they did not ask for this, yet this is what they get.
Gambari attended King's College, Lagos for his secondary education and subsequently attended the London School of Economics where he obtained his Bachelor's degree in Economics with specialisation in International Relations.
He began his teaching career in 1969 at City University of New York before working at University of Albany.
Afterwards, he taught at Ahmadu Bello University, in Zaria, Kaduna State.
Gambari later obtained his M.A. (1970) and Ph. D. (1974) degrees from Columbia University, New York, USA in Political Science /International Relations.
Also, between 1986 and 1989, he was a visiting Professor at three universities in Washington, D.C.: Johns Hopkins School of Advanced International Studies, Georgetown University and Howard University.
Mr Gambari was a research fellow at the Brookings Institution also in Washington D.C. and a Resident Scholar at the Bellagio Study and Conference Center, the Rockefeller Foundation-run center in Italy.
Gambari was a renowned diplomat who represented Nigeria in several international bodies.
He was the Chairman of the UN Special Committee Against Apartheid between 1990 and 1994.
He is the first Under-Secretary-General and Special Adviser to the United Nations' Secretary-General on Africa between 1999 and 2005.
His last assignment at the United Nations was as the Joint Special Representative of the Secretary-General and Chairperson of the African Union Commission/Head of the UN and AU Hybrid Mission in Darfur from January 2010 to July 2012.