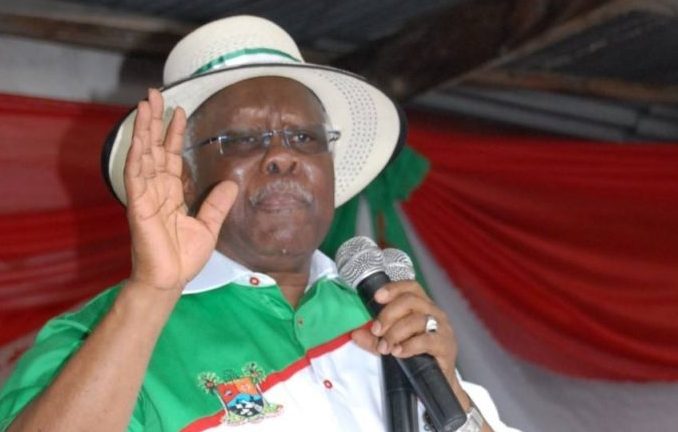 A former National Vice-Chairman (South) of the People's Democratic Party (PDP), Chief Bode George , on Friday said he remained the best candidate to be the next chairman of the party.
He made the statement in Lagos while formally declaring his intention to contest the chairmanship seat of the party.
George said what the PDP needed at  the critical moment was a committed, energetic, experienced party man to redeem and reposition it.
He attributed the party's loss of the presidency to deviation of the goals and standards erected by the PDP's founding fathers.
The party chieftain said the party had been facing some challenges as a result of the defeat, but pledged to return the party to winning ways if elected.
"Our party needs a rescue. Our party needs redemption. Our party deserves a balanced, experienced, tested, trusted and a faithful hand.
"Our party needs a team player and a unifying leadership. Our party needs stability.
"Here and now, I am humbly making a stand and a declaration as a candidate for the position of the office of National Chairman of our great party with a vision to serve as a bridge builder, as a peace maker and healer of broken pieces," he said.
George, however, said he did not have the answers to all the problems of the party but was prepared to work with others to ensure the restoration of its vision.
Giving more reasons why he was the best man to lead the party, he said he had been a loyal party man who had stayed with the PDP through thick and thin.
Bode George said he fully understood the precepts, the mechanisms and constitution of the party and that he knew the ethos, the tradition and culture built by its founding fathers.
He said it was not a time to experiment, appealing to all party members to support his aspiration to lead the party.
Also speaking at the occasion, a former Minister of Transportation, Chief Ebenezer Babatope, said George was the most qualified to lead the party.
He said he had a track record of performance and that he had the experience to return the party to winning ways.
"George has the maturity, the experience, the courage to lead our party. He has a track record of performance. He will deliver," Babatope said.
In his goodwill message, former National Vice Chairman of the party (South West), Alhaji Tajudeen Oladipo, said Bode George had laboured and suffered for the party.
Oladipo said it was time for the party to reward George for all he had done by voting him as next chairman.
Also, Senator Adeseye Ogunlewe, who is a former minister, said George was the man PDP needed to reposition the party.
Other PDP chieftains such as Mrs Olusola Obada, former minister, and Chief Dapo Sarumi, also gave open support to George at the declaration.
Former Deputy Governor of Lagos State, Mrs. Bucknor Akerele, was also at the occasion to give her support.