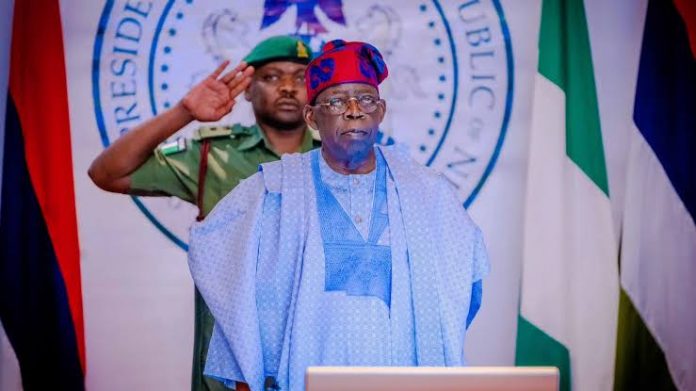 Presenting the complete text of President Bola Ahmed Tinubu's nationwide address on the occasion of Nigeria's 63rd Independence Anniversary, which took place on Sunday, October 1, 2023.
Dear Compatriot,
I stand before you today, both as the President of our great nation and as a fellow Nigerian, to mark the 63rd anniversary of our independence.
On this solemn yet hopeful occasion, let us remember and honor our founding fathers and mothers, who breathed life into the idea of a sovereign and independent Nigeria. From the ashes of colonialism, their dedication and leadership birthed our nation.
Let us reaffirm that every Nigerian possesses sacred rights and unique gifts, and that no one is greater or lesser than another. Nigeria's triumphs will define us, and its challenges will make us stronger. This nation belongs to all of you; cherish it.
Our diversity is our strength, and despite our differences in ethnicity, religion, tradition, and culture, we are bound together by our common thirst for peace, progress, and justice.
Creating a united nation from this diversity has been both a blessing and a challenge. Some believed Nigeria should never exist, but they were mistaken. Our nation endures and will continue to do so.
In this journey, we recently achieved a significant milestone by electing a 7th consecutive civilian government, reaffirming our commitment to democracy and the rule of law.
Upon my inauguration, I made promises to reshape our economy and ensure the security of our citizens. I announced the end of the fuel subsidy, understanding the hardships it brings. Reforms are painful, but they are necessary for our future prosperity and the equitable distribution of our nation's wealth.
We are taking measures to ease the burden on our people. We're implementing public sector reforms, fighting inflation, supporting the poor and vulnerable, and increasing the federal minimum wage for the next six months.
We're investing in infrastructure to support grassroots development and lowering transport costs with the introduction of Compressed Natural Gas (CNG) buses. These buses will operate at lower fuel prices, benefiting transport fares.
We're also reforming the Central Bank, improving tax policies, supporting small businesses, and expanding cash transfer programs to vulnerable households.
The safety of our people remains a top priority. We're enhancing collaboration among our security forces and rebuilding their capacities to protect our nation.
We'll continue to make appointments fairly, giving consideration to women, youth, and the physically challenged. I commend the National Assembly, judiciary, and civil society organizations for their roles in our democracy.
As we move forward, let us remember that fear and hatred won't guide us. Courage, compassion, and commitment will lead us toward a better Nigeria.
I pledge my unwavering commitment to serve faithfully, and I invite all of you to join in the effort to remake our beloved nation into a better version of itself. Together, we can, we must, and we shall achieve it!
Happy 63rd Independence Anniversary, Nigeria.
Thank you for your attention, and may God bless the Federal Republic of Nigeria.