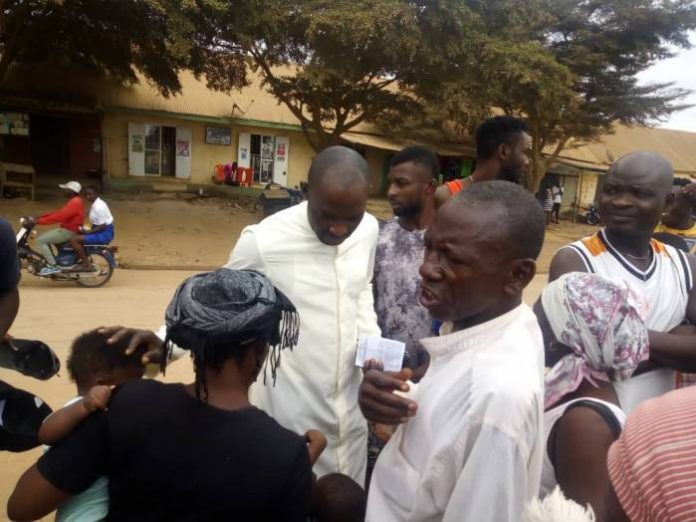 A Catholic Priest in Gboko Local Government Area of Benue State, Rev. Fr. Emmanuel Asue has, again, embarked on the rehabilitation of 10 kilometer trunk A road linking Ameladu, Mkar, Akaajime and Kontien communities with Gboko town in Gboko local Government area of Benue State.
Rev. Asue who has been leading healing Masses at Bua Ameladu for over 10 years had embarked on yearly rehabilitation of the road about five years ago using his personal funds.
Speaking with newsmen in Gboko, Fr. Asue said the exercise became imperative considering the bad nature of the road.
He said the rehabilitation of the road would boost transportation system, agricultural activities and improve on the standard of living of the people of the area and those plying it.
He said the rehabilitation of the road was part of his social responsibility to ensure smooth transportation of sick people attending the healing Mass and the hospitals around the area, as well as to complement government efforts in improving on the agricultural, socio-economic activities and reduce the plight of residents while transporting their goods to neighbouring markets.
When our correspondent visited the site, the Catholic Priest was there with some youths instructing drivers of tippers and graders on how to fill the worst portions.
Some community members, Mr. Tyover Akaajime, Smith Takema, Terkende Ishwa, Emmanuel Ikpilaka and Mrs. Mercy Shija who spoke to our correspondent commended the priest saying "the road rehabilitation will reduce the hardship the people face when plying the road."
They also said rehabilitation of the road will fight poverty, boost socio-economic activities and reduce transport fares charged by motor and motorcycle riders among other benefits.
They however appealed to the federal and state governments to assist the community by reconstructing the road to give it a permanent facelift.
Though the Catholic Priest declined disclosing how much he has used for the road reconstruction, some community members said he must have spent over N30 Million in repairing the road in the last five years.