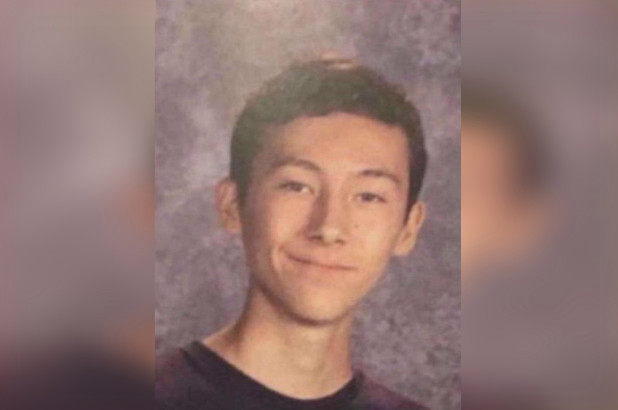 The 16-year-old student who pulled a gun out of his backpack and opened fire at his California high school, killing two classmates and injuring three others, before attempting suicide has been identified.
Nathaniel Berhow was taken into custody and rushed to hospital where he is in a grave condition after the deadly shooting at Saugus High School in Santa Clarita, about 40 miles from Los Angeles, on Thursday morning.
Authorities said they responded to a torrent of 911 calls when the gunfire began at about 7.30a.m and they found all six students in a quad area within the school.
Surveillance video captured the attacker pulling a .45-caliber semi-automatic pistol from his backpack, firing at his five classmates and then shooting himself in the head with the final bullet.
A 14-year-old boy and a 16-year-old boy have died.
Two girls, aged 14 and 15, were each in good condition after being treated for gunshot wounds. A 14-year-old boy was treated and released from another hospital.
The gunman, who was initially mistaken for a victim, is also in hospital in a grave condition.
Berhow's mother, Mami Matasuura, said she was praying her son survived.
'I don't even know what to do right now, I am just praying for my son's life,' she said.
Authorities are still investigating but a former friend said the 2017 death of Berhow's father Mark Berhow could have triggered the shooting rampage.
READ ALSO: BREAKING: Shooting In Southern California High School
Los Angeles County Sheriff Alex Villanueva did not identify the gunman but said he was a student at the school and that he was celebrating his 16th birthday the day of the attack.
The school was locked down and witness descriptions and surveillance footage identified the suspect within an hour of the shooting. No other suspects are currently being investigated.
Officers went to his home and his mother and girlfriend were at a local police station speaking with detectives.
Authorities said a search warrant was being obtained for the suspect's home to collect possible evidence.
'At this point in time, we have no indication of motivation or ideology,' said Paul Delacourt, the agent in charge of the FBI's Los Angeles field office.
A childhood friend of Berhow's – who only identified himself by his first name to KTLA, described him as being quiet and introverted.
Ryan said he knew the suspect in middle school but that he didn't really socialize.
'Over the years we stopped talking, there was a disconnect (between us),' he said, adding he last spoke to the suspect about six years ago.
'He was doing his own thing. It's a shock to all of us.'
Ryan said Berhow's father had died and speculated that his death might have triggered the violence. The friend claimed that Berhow's father drank heavily and also made bullets.
Asked if there were weapons in the home, Ryan said: 'His dad used to make bullets, so I'd assume he had bullets and stuff like that.'
He added that Berhow's father was a 'really nice man who was willing to help people'.
Source: Daily Mail