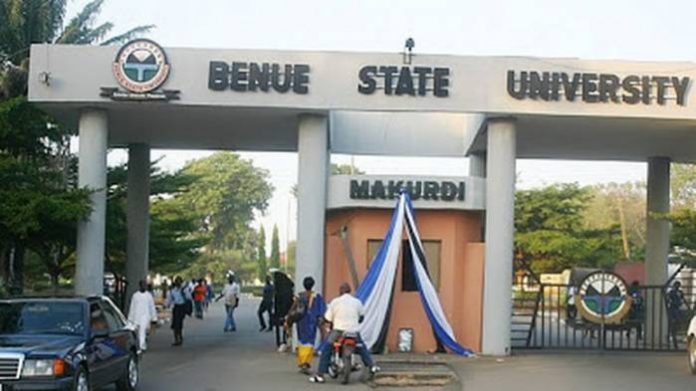 Senior Staff Association of Nigeria Universities (SSANU) and Non Academic Staff Union (NASU), Benue State University (BSU) chapter on Monday, staged a protest over alleged stagnation of promotion of their members.
Members of the two unions who staged a joint protest also demanded that the university's Pro Chancellor and Chairman Governing Council, Professor Zachariah Gundu be sacked for allegedly committing atrocities.
The protesters, who were all in black attires, bore palm fronds in their arms while some bore placards with various inscriptions such as, "Prof. Gundu Must Go", Pay Us Our Earned Allowance", and "We Demand Pro-Chancellor's Sack" among others.
The union members also said they want immediate payment of their Earned Allowance arrears.
But the Chairman of Council and Pro Chancellor of the Benue state University, Professor Zachariah Gundu described the protest by SSANU and NASU as baseless saying the protesters were unfair to the
management of the institution.
Gundu who explained that BSU is the only University in Nigeria today that is up to date in the payment of the earned allowance to both academic and none academic staff said it was unfortunate that the
union have decided to embark on the protest.
READ ALSO: BSU Shut Over Student Protest
He told newsmen that when Governor Samuel Ortom took over leadership of the state in 2015, he tried to solve the industrial action at the university by building the earned allowance into the staff salary, and has, since then, kept to his promise.
On the issue of promotion, Gundu said it will be unfair for SSANU and NASU, to think that the institution will just grant promotion to staff arbitrarily without earning it.
He noted that currently, the non-academic staff in the institution were in excess, with some not having work schedule.
According to him, "the university, as it is now, has 21 deputy registrars, the highest that could be found in any institution in Nigeria. It may interest you to know promotion is not a right, it is earned.
"Promotion is done when there is room for it or when people merit it.
"The protesters are also claiming that I have committed atrocities, but they can't even mention one atrocity I have committed. I think the protest is purely political, baseless and lacking in substance," Gundu said.