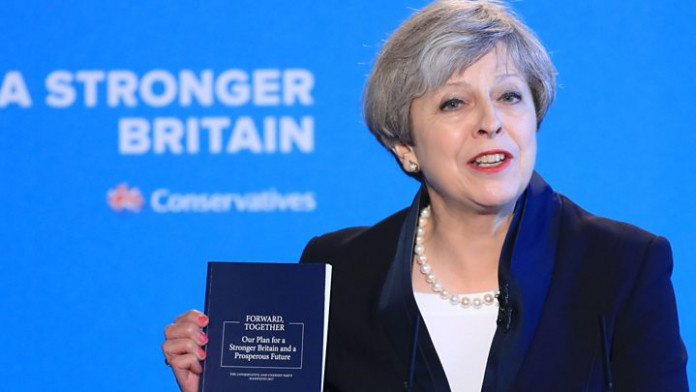 British Prime Minister Theresa May resumes campaigning on Monday after a deadly militant attack on London Bridge.
May said Britain must be tougher in stamping out Islamist extremism after three knife-wielding assailants rammed a hired van into pedestrians on London Bridge and stabbed others nearby, killing seven people and injuring 48.
After the third militant attack in Britain in less than three months, May said Thursday's election would go ahead but said Britain had been far too tolerant of extremism.
Islamic State, which is losing territory in Syria and Iraq to an offensive backed by a U.S.-led coalition, said its militants were responsible for the attack, according to the group's media agency Amaq.
Islamist militants have carried out scores of deadly attacks in Europe, Russia, the Middle East, Africa, Asia and the United States over the past two years.
In an early morning raids in east London, British counter-terrorism police detained more people on Monday.
Police arrested 12 people in the Barking district of east London following the attack, though one was later released.
Police have not released the names of the attackers and British newspapers refrained from identifying the men.
It was not immediately clear how the attack would impact the election, though the issue of security has been thrust to the forefront of the campaign after the London Bridge and Manchester attacks.
The campaign was suspended for several days last month when a suicide bomber killed 22 people at a concert by Ariana Grande in Manchester.
Grande gave an emotional performance on Sunday at a benefit gig in the city for the victims of the attack, singing with a choir of local schoolchildren, including some who had been at her show.
Before the London Bridge attack, May's gamble on a June 8 snap election had been thrust into doubt after polls showed her Conservative Party's lead had collapsed in recent weeks.
While British pollsters all predict May will win the most seats inThursday's election, they have given an array of different numbers for how big her win will be, ranging from a landslide victory to a much more slender win without a majority.
Some polls indicate the election could be close, possibly throwing Britain into political deadlock just days before formal Brexit talks with the European Union are due to begin on June 19.
May called the snap election in a bid to strengthen her hand in negotiations on Britain's exit from the European Union, to win more time to deal with the impact of the divorce and to strengthen her grip on the Conservative Party.
If she fails to beat handsomely the 12-seat majority her predecessor David Cameron won in 2015, her electoral gamble will have failed and her authority will be undermined both inside the Conservative Party and at talks with 27 other EU leaders.
May said the series of attacks were not connected in terms of planning and execution, but were inspired by what she called a "single, evil ideology of Islamist extremism" that represented a perversion of Islam and of the truth.
As a former interior minister, May's record on security is also under scrutiny, she reduced police numbers and oversaw the domestic intelligence agency, MI5.
Opposition Labour leader Jeremy Corbyn criticised May, who was interior minister from 2010 to 2016, for cutting police numbers during her tenure in charge of the interior ministry.
"The mass murderers who brought terror to our streets in London and Manchester want our election to be halted. They want democracy halted", Corbyn said in Carlisle, northern England.

"That is why it would be completely wrong to postpone Thursday'svote, or to suspend our campaigning any longer."