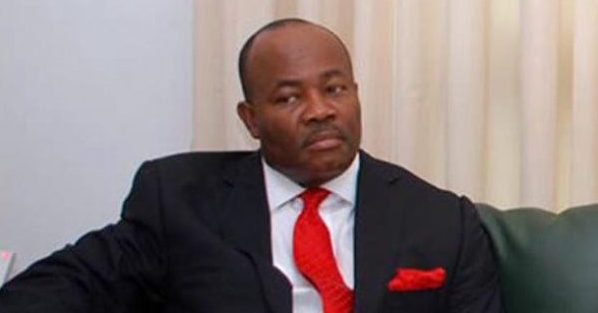 Senator Godswill Akpabio representing Akwa Ibom North West in the National Assembly is 55 today.
Born on December 9, 1962, into the family of Chief Obot Akpabio and Madam Lucy Obot Akpabio (née Inyangetor) of Ukana, Ikot Ntuen in Essien Udim Local Government Area, he trained as a lawyer.
Also a politician of note, he was the Governor of Akwa Ibom State from May 29, 2007 to May 29, 2015.
At the Senate, where he is currently serving the people of Akwa Ibom North West and Akwa Ibom state in particular and Nigeria in general, he is the Senate Minority Leader.
His coming as the governor brought about a general transformation of Akwa Ibom State with numerous projects, which many had thought were impossible in the clime.
The giant strides he took while in office attracted the nickname, "Uncommon Transformer."
Among other things, he gave free and compulsory education; completed the Ibom International Airport (Akwa Ibom Airport), constructed a brand new state-of-the-art Governor's Lodge and West Africa's first digital library – the Ibom E-Library, constructed the first ever pipe-jacking or micro-tunneling technology to check the menace of erosion, the Ibom Tropicana Entertainment complex, among others.
The e-library is a state-of-the-art facility with capacity for multifarious internet utilization and over 60 million eBooks.
His investment in infrastructural development in the state has remained unparalleled.
He constructed several roads linking up all communities in Akwa Ibom state.
Also, he constructed five new general hospitals and a specialist hospital of international standard. The hi-tech hospital is capable of undertaking major transplant and surgeries.
The comprehensive rural electrification scheme, which linked an additional 1,700 communities to the national grid, by embarking on 800 electricity projects is to his credit.
Read Also : 14 UN peacekeepers killed
His administration also brought about improved security in the state and improved welfare package for the workers.
Quite a number of other achievements during his tenure as governor of the oil-rich state abound.
In the Senate too, he has continued to represent his people very well. During his Constituency briefing in August, 2017, he announced the construction of market stalls, solar-powered boreholes, new classroom blocks and rehabilitation of classroom blocks of existing schools with supply of desks, white boards, teachers' tables, town halls and community centers with boreholes and generators.
He gave out 30 vehicles, 40 cargo tricycles, four tractors, 800 generating sets, 100 computer sets and printers, 194 sewing machines, 154 grain grinding machines, 30 home grinding machines and a lot of other items.
As part of his empowerment programmes in human capital development, 400 youths and women are being trained through the Small and Medium Enterprises Development Agency ( SMEDAN) and the National Directorate of Employment (NDE).
Senator Akpabio also instituted a full scholarship scheme for 250 students of tertiary institutions drawn from the 10 local government areas of the Senatorial District at N 50, 000, per student as well as bursary for 22 students at the cost of N 100, 000, per student per year of study.
His contributions to debates at plenary sessions have been quite remarkable and contributed to better legislation for the people of the country.
He has empowered many of the people of his constituency and beyond to improve the living standard and made them to be gainfully employed.
Above all, Senator Akpabio is generally regarded as a highly detribalized Nigerian of an uncommon mould with unparalleled generosity.
He is married to Mrs. Unoma Ekaette Akpabio, the Mother Theresa of Akwa Ibom state. They are blessed with lovely children.