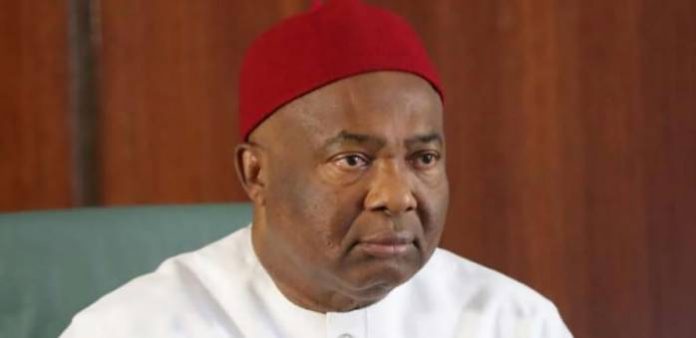 Hope Uzodinma has won 2023 Imo Governorship Election with large margin.
Next Edition reports that Governor Hope Uzodimma of the All Progressives Congress (APC), emerged victorious in 27 local government areas in the just-concluded election, with the collation completed at 08:30 am on Sunday.
The collation of results is currently taking place at the State Collation Centre in Owerri, the state capital.
The process commenced around 02:30 am on Sunday in Owerri, with the Vice Chancellor of the Federal University, Oye Ekiti, Prof Abayomi Fashina, serving as the state Returning Officer for INEC in the election.
The APC, represented by Uzodimma, the Peoples Democratic Party, PDP, with Samuel Anyanwu, and the Labour Party's Achonu Nneji, were the primary contenders among the 18 parties fielding candidates in the election.
According to INEC, a total of 2,419,922 registered voters in the state for the poll, with 2,318,919 Permanent Voter Cards (PVCs) collected.
At the culmination of the collation at 08:30 am on Sunday, Fashina announced that the center would take an hour-long break and reconvene for the announcement of the winner.
Ehime Mbano LGA
APC: 6,632
LP: 4,958
PDP: 681
Ikeduru LGA
APC: 22,356
LP: 1,377
PDP: 7,258
Isiala Mbano LGA, Imo state
APC: 10,860
LP: 2,419
PDP: 1,659
Ezinihitte Mbaise LGA
APC: 8,473
LP: 3,332
PDP: 2,737
Oguta LGA
APC: 57,310
LP: 1,941
PDP: 2,653
Results: Isu LGA, Imo state
Registered voters: 55,203
Accredited voters: 15,974
APC: 11,312
LP: 1,253
PDP: 2,508
Oru East LGA, Imo state
Registered voters: 85,080
Accredited voters: 74,324
APC: 67,315
LP: 3,443
PDP: 2,202
Ngor Okpala LGA, Imo state
Registered voters: 102,048
Accredited voters: 22,111
APC: 14,143
LP: 2,716
PDP: 3,451
Aboh Mbaise LGA, Imo state
Registered voters: 111,207
Accredited voters: 16,084
APC: 9,638
LP: 2,455
PDP: 1,724
Owerri West LGA, Imo state
Registered voters: 140,242
Accredited voters: 16,296
APC: 9,205
LP: 2,597
PDP: 3,305
Nkwerre LGA, Imo state
Registered voters: 59,926
Accredited voters: 26,993
APC: 22,488
LP: 1,320
PDP: 2,632
Ahiazu Mbaise LGA
Registered voters: 98,887
Accredited voters: 16,097
APC: 8,369
LP: 2,213
PDP: 3,507
Isu LGA, Imo state
Registered voters: 55,203
Accredited voters: 15,974
APC: 11,312
LP: 1,253
PDP: 2,508
Oru East LGA
Registered voters: 85,080
Accredited voters: 74,324
APC: 67,315
LP: 3,443
PDP: 2,202
Ngor Okpala LGA
Registered voters: 102,048
Accredited voters: 22,111
APC: 14,143
LP: 2,716
PDP: 3,451
Ideato south LGA, Imo state
Registered voters: 79,361
Accredited voters: 21,935
APC: 16,891
LP: 1,649
PDP: 2,469
Onuimo LGA, Imo state
Registered voters: 36,717
Accredited voters: 18,405
APC: 13,134
LP: 1,753
PDP: 2,676
Okigwe LGA, Imo state
Registered voters: 75,410
Accredited voters: 63,935
APC: 55,585
LP: 2,655
PDP: 1,688
Orsu LGA, Imo State
Registered voters: 56,996
Accredited voters: 19,939
APC: 18,003
LP: 813
PDP: 624
Owerri Municipal, Imo State
Registers voters: 134,169
Accredited voters: 11,110
APC: 5,324
LP: 2,914
PDP: 2,180
Obowo LGA, Imo state
Registered voters: 68,690
Accredited voters: 22, 214
APC: 17,514
LP: 3,404
PDP: 711
Owerri North LGA
Registered voters: 134,555
Accredited voters: 18,398
APC: 8,536
LP: 4,386
PDP: 3,449
Njaba LGA, Imo state
Accredited voters: 12,098
APC: 811
LP: 995
PDP: 2,404
Oru West LGA
Number of accredited voters: 42965
APC: 38,726
APGA: 275
LP: 1,867
PDP: 987