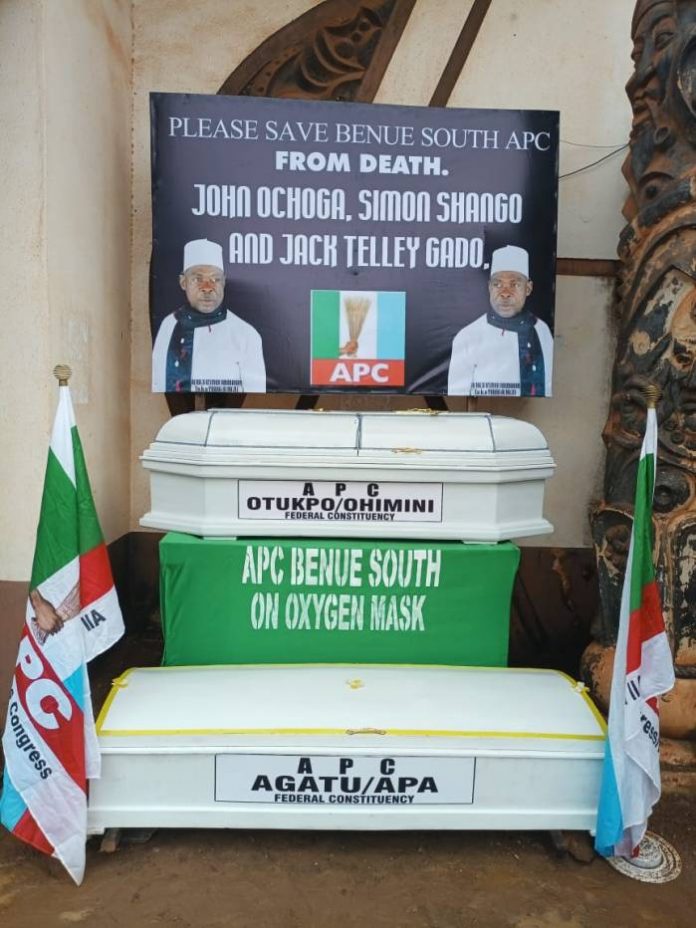 The house of All Progressives Congress, APC, chieftain in Benue state, Alhaji Abubakar Usman a.k.a Young Alhaji, has been set ablaze.
The Next Edition gathered that the incident happened around 3a.m when the chieftain and other members of his household were fast asleep.
It was gathered that the house located in Otukpo, headquarters of Benue South senatorial district, had its security room and some section of the main building burnt down completely.
Our correspondent also gathered that as at the time the fire was raging, a casket allegedly placed in front of his house to announce the death of his party, APC, was also seen burning.
Speaking to journalists on phone, Young Alhaji who confirmed the fire incident, said the hoodlums used petrol bomb to set his house ablaze saying the whole place would have been burnt down save for his and the efforts of his staff who quickly put out the fire.
He said, "Yes. It happened around 3a.m. It burnt one section of my house and my security house is totally burnt.
"They threw in a petrol bomb. People who don't want truth."
READ ALSO: BREAKING: Terrorists Release Train Passenger Shot In Captivity, Four Others
Young Alhaji confirmed that he personally placed the coffin in front of his house some four days ago explaining that "it was to signify that our party is about to die and we need to take steps to save it. It was just a message. That's all.
"I place the coffin there because of the crisis and happenings in the party in my zone. So I put that coffin there to show that if quick action is not taken, the party would call for oxygen."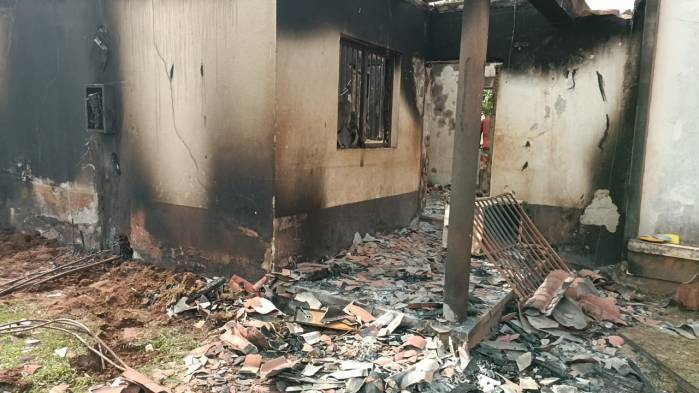 According to him, the APC in Zone C has been ridden with crisis over deputy governorship position as a result of which "some people like John Ochoga, Simon Shango and Tilley Gyado are insisting on Samuel Ode while I, as leader of the party in the zone, is saying that it should go to Apa/Agatu."
Asked if he is suspecting anyone to be responsible for the fire, Young Alhaji said, "I'm not suspecting anybody but whoever that has done it is not far from a member of party in the zone.
"They burnt down by security house. "I cannot estimate the loss but the whole structure was burnt down. The police and DSS are aware."
The APC chieftain confirmed visiting Governor Samuel Ortom recently saying "in Benue state, there are no two governors and being the Governor of the state, I'm his subject. He is governor of state irrespective of party and I have the right to visit him.
He also said Ortom did not invite him to join the Peoples Democratic Party, PDP, insisting "I'm in APC and all am asking is that the leadership of the party should look into my protest."