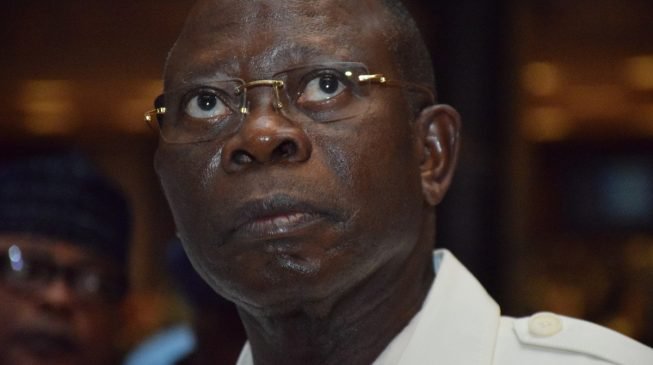 The opposition Peoples Democratic Party (PDP) has asked the Presidency and All Progressives Congress (APC) to produce the ruling party's embattled Chairman, Adams Oshiomhole.
The PDP, which mocked President Muhammadu Buhari's anti-corruption credential, insinuated Mr. Oshiomhole might have fled the country on its official Twitter page.
The posts which were tweeted late on Thursday read, "We charge the National Intelligence Agency (NIA) and Interpol to help track down the factional National Chairman of the discredited @officialAPCNg, Adams Oshiomhole, believed to be on the run outside the country since his reported interrogation by the DSS over alleged corruption.
"Mr. Oshiomhole's swift flight out of the country, at the heat of investigation, is suspect and goes to confirm allegations that the @Mbuhari Presidency is shielding him from prosecution for fear that investigation would implicate certain interests at the Presidency and the APC.
READ ALSO: I have no hands in Oshiomhole's alleged detention — Amosun
"It is ludicrous that the @OfficialAPCNg, in its lying proclivities, believes that by dismissing Oshiomhole's arrest as a rumour and aiding him to momentarily flee the country, it would succeed in getting him off the DSS hook as well as sweeping the matter out of public discourse.
"Nigerians are already aware that Oshiomhole has not denied his investigation including his reported confession that the @MBuhari Presidency was in the loop of all his actions.
"We, therefore, demand that the OfficialAPCNg and the @MBuhari Presidency must immediately produce Adams Oshiomhole to face investigation and prosecution in our courts."
The PDP's tweets, which have been shared and retweeted several times on many platforms, are yet to attract a response from any arm of the APC.
The last post on the official handle of the APC was made on Wednesday indicating a meeting between the party's United Kingdom chieftain, Ade Omole with Lanre Issa-Onilu and Festus Keyamo.