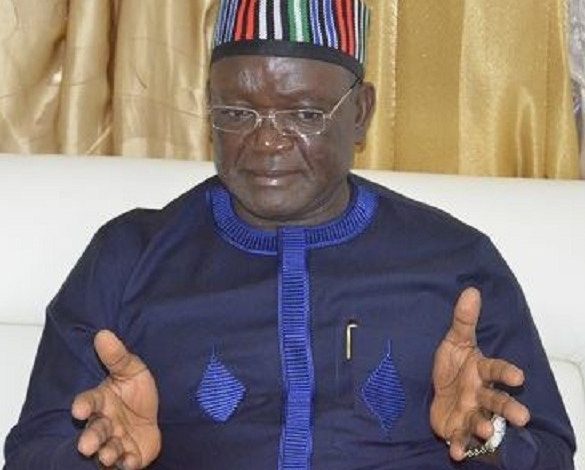 Benue State Governor Samuel Ortom has vowed to deal with any one caught fomenting trouble in the state or at the border communities as his government would not give room for criminal elements to overrun the state in any way.
Ortom read the riot act on Friday at the Benue Peoples House in Makurdi while briefing the press on his plans to tackle insecurity in the state.
He appealed to the people of Taraba and Ebonyi who are currently at loggerheads with their Benue counterparts at border communities to remain calm and allow peace to reign.
According to him, a joint committee comprising of five stakeholders from each state has already been set up and inaugurated to find lasting solutions to the Benue/Taraba border clashes.
He said his government was in agreement with Ebonyi and Taraba states and would do everything to resolve the issues and bring lasting peace between the states.
"The two government of Taraba and Benue have given directives that person involved in these crises, (whether from Benue or Taraba) should be apprehended and sanctioned according to the law. We are not joking about this. We will continue to monitor things to ensure that peace returns to our states," he said.
The Governor said there was need for collaboration with all stakeholders; traditional rulers, the press and the general public, to end criminality in the land saying anyone with useful information should avail it to the security agencies.
READ ALSO: Nigeria Loses $3b Annually to Piracy – Commission
He noted that his deputy had held a tripartite meeting with Ebonyi state government and the National Boundary Commission and expressed belief that the commission would put an end to the lingering problems by ensuring that the boundaries are demarcated.
"Boundaries are not meant to separate the people but for administrative conveniences. So where ever you are, just be law abiding to ensure a crime free society", Ortom said.
Speaking on the internal crisis in Katsina Ala, Gboko, Kwande, Agatu and other places, Governor Ortom announced that after a critical meeting with security stakeholders, it was discovered that criminal elements were taking advantage of the security situation to cause more mayhem in the state.
"The case of Katsina Ala was purely a criminal matter. We have discovered that a lot of criminals were taking advantage to aggravate the situation and we have been able to nip this in the bud and hopefully, there will be no more hostilities.
"As at today, there is no form of economic activity going on there. Businesses, schools and even farming activities which is our main source of sustenance are all shut down. We will ensure our people have their peace."
He further stated that those who neglected their responsibilities leading to the crisis would be sanctioned.