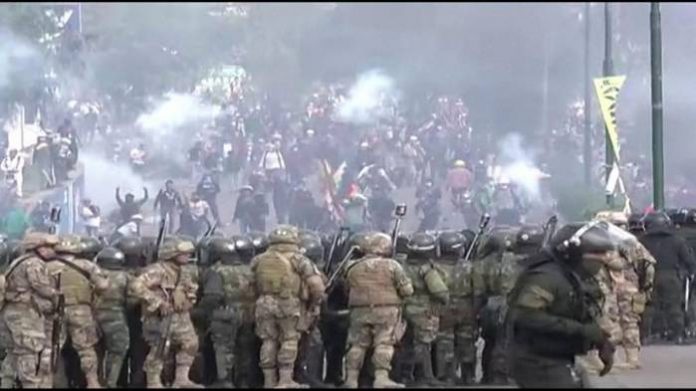 The death toll in Bolivia continues to rise after violent clashes between security forces and supporters of former President Evo Morales.
On Friday, security forces opened fire on supporters of Mr. Morales in Sacaba, killing at least eight people.
A doctor in the city told the Associated Press that most of those killed and injured had bullet wounds.
The country's national ombudsman said a total of 19 people had died since the disputed election on October 20.
On Saturday, UN human rights chief Michelle Bachelet warned that violence in Bolivia could "spin out of control".
"Repressive actions by the authorities… are likely to jeopardise any possible avenue for dialogue," she added.
Amid claims of electoral fraud, Mr. Morales resigned on November 10 and later fled to Mexico.
On Friday, before the violence in Sacaba, he told the BBC that there were no meaningful charges that could be brought against him.
He was responding to interim President Jeanine Áñez, who said he could be prosecuted if he returned to Bolivia.
Mr. Morales had previously said he was willing to return to Bolivia in order to restore peace. He also told US broadcaster CNN that what happened in Sacaba was "a real massacre".
Ms. Áñez, who declared herself interim president on Tuesday, has already broken ties with Venezuela and is sending home more than 700 Cuban medics.
The moves are meant to show that the interim government is distancing itself from Mr. Morales's regional left-wing allies.
Hospital director Guadalberto Lara told AP that most of the killed and injured in the central town of Sacaba had bullet wounds.
Witnesses said police opened fire on protesters calling for the return of Mr. Morales to Bolivia.
Separately, an AFP correspondent said five supporters of the former president were killed, after seeing their bodies at a local hospital. The deaths were later confirmed by interim minister Mr. Justiniano to local journalists.
On Saturday, three more deaths were confirmed.
Also on Friday, riot police fired tear gas to disperse protesters in La Paz, the country's administrative centre.
Mr. Morales, 60, has said he was forced to stand down but did so willingly "so there would be no more bloodshed".
But his resignation triggered clashes around Bolivia between his supporters and police.
Source: BBC