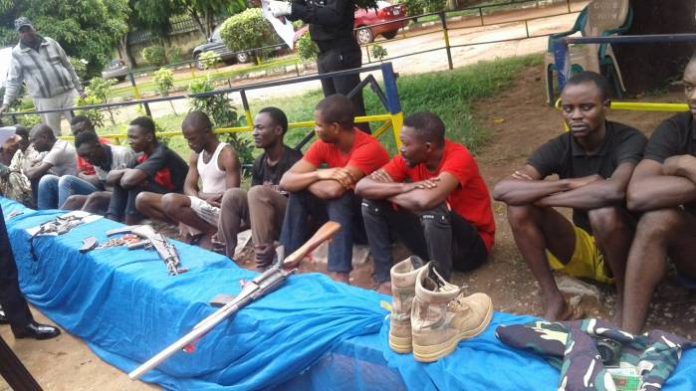 Benue State Police Command has paraded 15 suspects for sundry crimes including illegal arms manufacturing, kidnapping, rape, cultism, child trafficking and armed robbery.
Commissioner of Police in Benue state, CP Mukaddas Garba paraded the suspects in company of other senior officers on Thursday after briefing newsmen in his ofiice at the command headquarters in Makurdi.
Among those he paraded was one Terna Taga, 17 years old, of North-Bank, Makurdi, who allegedly raped 10-year-old Masenengen Targba, an orphan who lived with her uncle. The victim became pregnant and was recently delivered of a baby girl in a hospital in Makurdi.
The CP said Investigation revealed that the uncle was making arrangements to marry her out to an old blind man when he discovered that she was pregnant. The uncle is however, currently at large while arrangement is on to charge the suspect to court.
The CP said the command was not relenting in its duties and has deployed numerous strategies to fight crime in the state to ensure a peaceful environment.
"This is evident in the relative peace experienced in most parts of the state. The Command has been able to strategically map out possible "Black Spots" in the state and deploy its manpower and resources to ensure that such places are secured.
He explained that Operation "Puff Adder" was obviously securing high ways and local governments where kidnapping and robbery was noticed saying the strategies have aided prevention of crime in the State and apprehension of offenders.
He said between July and August, the command arrested 15 suspects and recovered arms including four locally made pistols, seven rifles, 10 ammunition, one live catridge and one expended catridge.
The suspects included illegal arm manufacturers.
The CP said that on the August 2, 2019, at about 2030hrs, one Mkarvter Shagbe and Terseer Makuna all of Vandekya were arrested with an AK 47 rifle loaded with 10 rounds of live ammunition.
"Further investigation led to the arrest of an illegal arm manufacturer one Terhembafan Sevav and llishi Avav. Search led to the recovery of two more AK 47 rifles, two single barrel pump actions, two locally made pistols, four magazines, one gas cylinder, assorted gun manufacturing tools and charms."
He also told journalists that a victim from Vandeikya LGA reported that some unknown persons called and threatened him to pay them the sum of N2, 000, 000.00 or they will kidnap and kill him.
Investigation led to the arrest of one Kphe Terfa Godwin of Mbayongo Vandeikya who was arrested from his hideout at Tsav village.
He said that the suspect confessed to the crime.
Others are Joseph Sunday also known as 2Pac and Paul Ogwuche Hero both arrested as suspected members of White Jurist cult group, Ahmed Yusuf and Msonga Akujor for armed robbery.
One Achogwu Daniel of Otukpo town was also arreated for child trafficking after he allegedly took a pregnant minor to Aba, Abia State, where the victim was delivered of a child that he sold to an unknown person.
According to Garba investigation into the case is still in progress.
The police also paraded some suspects who claimed to be personnel of Nigerian Merchant Navy, for mounting an illegal check point in the state.
The CP, who pledged more commitment to security in the state thanked the Benue public and his men for demonstrating commitment towards securing the entire state.