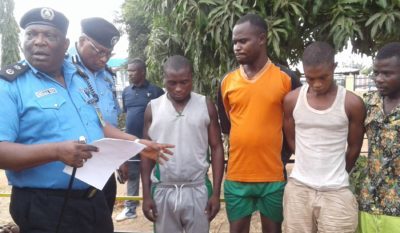 In its resolve to rid Benue State of criminal elements, the State Police Command, on Tuesday, said it has smashed six robbery gangs arresting 15 suspects for alleged armed robbery, cultism and culpable homicide while also recovering arms.
State Commissioner of Police, Omololu Bishi disclosed, while briefing newsmen on some of the successes recorded by the command between March 22 and 29, 2019.
Parading the 15 suspects at the command's headquarters in Makurdi, the Police Commissioner said a total of 12 arms, five live cartridges, two expended cartridges and 11 live ammunition were recovered from the suspects.
He explained that five armed robbers including Kumater Orduen, Terhemen Dev, Terna Atama, Terdoo Abata and Felix Iungwuze were arrested along Abakpa in Buruku local government at about 2330hrs on March 22, following a tip off that some robbers were carrying out robbery on the road.
According to him, while on the raid, "the Police recovered from them, three locally made pistols, two single barrel guns, two live ammunition, two live cartridges, one knife, assorted phones and other items they could not account for. Suspects have confessed to the crime and will soon be charged to Court."
Similarly, the police on a raid on March 28 and 29, arrested some other members of a robbery gang and cultists suspected to be terrorizing Otukpo town and recovered several items.
The suspects arrested in Otukpo include, John Oche, Inalegwu Onyila, Vincent Demetrus, Owoicho Emmanuel, and Adukwu David, Oche Elaigwu, Wisdom Nwefuru and Onogwu Otache.
"In one of the armed robbery cases, the robbers engaged the Police in a shoot-out along Otukpo-Ado road. They were arrested and searched at the spot. The following exhibits were recovered from them, two (2) locally made pistols, two (2) expended cartridges, one (1) AK 47 Bayonet and one (1) Camouflage T-shit," CP said.
READ ALSO: FG Spends N300bn on Social Investment Programme in 3 Years – Presidency
CP Bishi explained further that one Destiny Gbatima of Kanshio, Makurdi was also arrested on March 20 for allegedly breaking into someone's house around railway crossing, Iorkyaa-Ako Street, high level in Makurdi. A locally made pistol was recovered from him.
He also said one Joshua Okoro of Yaikyo village in Makurdi was also arrested on the March 20 around Woodland in Makurdi with a pistol. He confessed to been a cultist and is giving useful information to the police.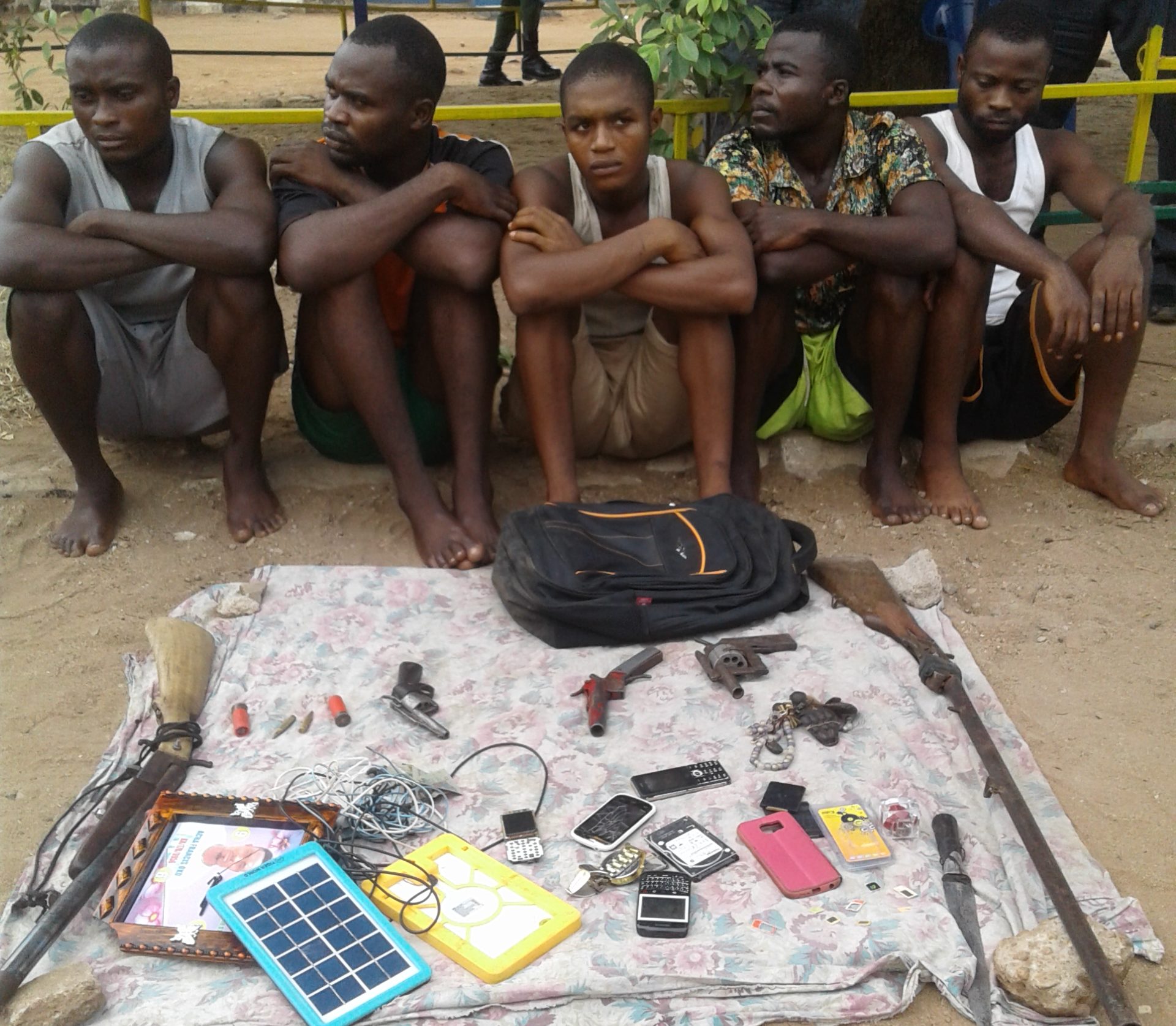 The CP appreciated the good people of Benue State for their support in fighting crime and solicited for more information to enable the command combat crime and other criminal acts.
CP Bishi also warned all criminals and intending criminals to desist from crime or face the full wrath of the law saying the commands shall leave no stone unturned in its bid to flush out criminal elements from the State.
"We want to warn those criminals who have refused to change and pursue legitimate means to beware. We will not relent but we will take the fight to them, most especially these cultists. Either they change and turn a new leaf or relocate out of Benue state.
"It is our resolve to serve the people of the state. Myself and my team will continue to do our best on the job to ensure that everyone in Benue sleep with their two eyes closed," CP Bishi said.