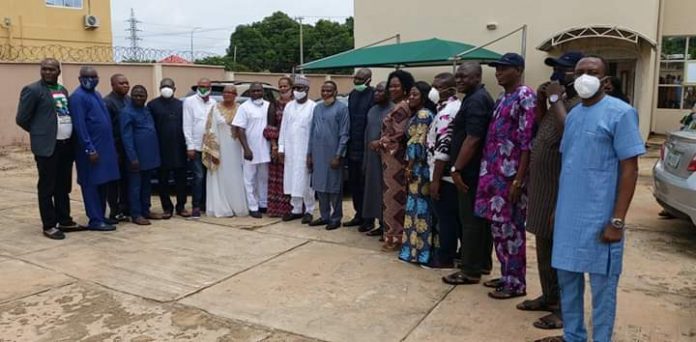 The leadership of the Peoples Democratic Party in Benue State has warned against meetings in the various local government areas of the state which are aimed at influencing the constituting of new council administrations.
State Chairman of the party, Mr. John Ngbede, gave the warning at the state party Secretariat, in Makurdi, during an emergency meeting of the party's State Working Committee with newly elected Chairmen of the local government councils in the state.
Mr. Ngbede noted with displeasure that following the victory of the party at the recent council polls, all manner of meetings have been going on with some party stakeholders gearing towards influencing appointments and elections into the various arms of council administration in the local government areas.
READ ALSO: Benue Guber: APC Heads To Tribunal, Says It Will Not Accept A Stolen Election
The State Chairman noted that such conduct, if not nipped in the bud, is capable of breeding undue interference with the statutory powers of council chairmen and could also impede their performance.
He said the development is a disregard to the authority of the party and its leader, Governor Samuel Ortom, who alone may issue guidelines for the composition of council administrations in the state.
In a press statement signed by the State Publicity Secretary, PDP, Bemgba Iortyom, Ngbede said that all such decisions taken at any meetings previously are null and void, and that there should, henceforth, be no meetings held anywhere to that purpose, pending further directives from the party's leader, the Governor.