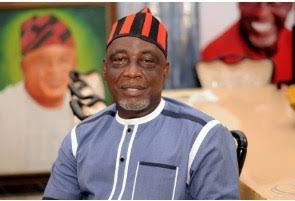 Senator Representing Benue South Senatorial District (Zone C), Abba Moro, has called on their Tiv brothers from Zones A and B to support the emergence of a candidate from his zone as governor of the state, come 2023.
Sen. Moro, who spoke during the PDP state elective congress, 2020, at the Aper Aku Stadium, on Saturday, insisted that in the spirit of oneness, as Benue citizens, the people of Zone A and Zone B should throw their weight behind Zone C to produce governor in 2023.
In his words, "Today, I stand on behalf of the good people of Benue South Senatorial District to say that as we set the stage and march towards 2023, the good people of Benue South asked me, if I come here, to say that they crave the indulgence of the Benue people to support somebody from Benue South Senatorial District to become Benue Governor in 2023.
"In 2007 when some of us went round contesting for the governorship seat, we were under the impression that Benue has three zones and that since zones A and B had produced governors of the state, it is the time for Zone C to become Governor.
"Today, 2023 stares us in the face. I am saying this today because it will be very difficult for us to gather like this again in good time before other permutations come in to decide on where to go.
"And so, it's my pleasure to say here that by all calculations that our amiable Governor is the Governor of the fifth Royal families of the Tiv speaking area.
"I, therefore, make bold to say that this time, as 2023 unfolds, we will come out to plead with our brothers from Zones A and B to support us to produce someone from Benue South to become governor, even if it's for just one term," Moro said.
READ ALSO: Benue PDP Holds State Congress, Passes Vote Of Confidence On Governor Ortom
The Zone C Senator pointed out that supporting one of them to become governor would build inclusiveness in Benue State Politics.
"I agree with the spirit that has pervaded the historical life of our Tiv brothers and sisters of "eating and giving to your brother", that in the build-up to the new inclusiveness, let the people of Benue South become the 'brother' of the Tiv now.
He reminded that a Tiv man, the revered J.S Tarka, fought for the minorities, and, therefore, called on their Tiv brothers and sisters to pick up from where he stopped by making 2023 a year where Benue will build a new inclusiveness. "A year where the Benue people will say 'enough is enough', that we are one people because we work together and together we stand stronger.
"Together we can achieve more. Together we can go far in the drive for us to make a new Benue a reality. A Benue where everybody is everybody's keeper."
He thanked the Governor, Samuel Ortom for tenaciously ensuring some level of cohesion in PDP that has made it a formidable party and a party to beat in Benue State.
Meanwhile, Gov. Samuel Ortom has promised to be fair and transparent in his leadership, stating that anyone who wants to contest any position in 2023 is at liberty to do so as no one will be imposed.
Speaking, the two former Senate Presidents, senators David Mark and Iyorcha Ayu, as well as former governor of Benue state, senator Gabriel Suswan, pledged greater synergy, cooperation and support of leader, elders and members of the National Assembly to ensure that things are done properly in such a way that everyone will be happy.
Sen. Mark who described Ortom as defender of the Benue Valley commended him for the proactive steps he took in curtailing the numerous security challenges in the state and encouraged him to keep up the good work.