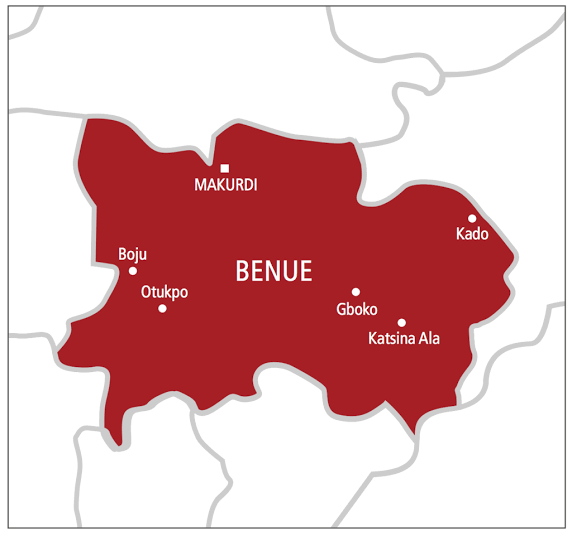 Following the killings in Katsina Ala Local government area of Benue State in which over 100 persons reportedly lost their lives, thousands are said to have been displaced leaving the communities deserted.
Recall that the Chairman of Katsina Ala LGA, Mr. Alfred Atera, had on Monday, alleged that over 100 persons were killed in an attack by suspected herdsmen in four council wards in his local government over the week end.
Atera who toured one of the affected area on Tuesday, said only domestic animals; dogs, sheep, goat, pigs and chicken were seen roaming the communities.
Speaking to journalists on the phone, on Wednesday, Atera said he has toured Utange, one of the affected council wards but no human life was present as at the time of his visit.
Atera assured that calm has returned to the areas saying, "For now there is nothing happening, the atmosphere is calm. I went to Utange Council Ward which is one of the four affected communities, and I discovered that everybody has run away.
READ ALSO: Count Benue Out of Grazing Reserves Plan …Gov Ortom
"All the houses in the Council ward are intact but no human being was found in the communities. All I saw were domestic animals which took over the communities. The locals ran away from their ancestral homes, it is that bad.
While lamenting that the displaced people are in their thousands, he said "if you go to Abaji up to Tor Donga, everywhere is filled with human beings who ran from their communities.
He stated that the people told me that Fulani people were in the bush chasing them, though I did not see any of them.
"There are people taking refuge in Abaji, Tor Donga and Haaga . They are occupying these places and villages that are close to the major road for fear of being killed.
"As we speak no, farming activity is going on in the villages I visited because the people have fled.
The Katsina Ala LG boss who assured that security personnel were already patrolling the communities said he also requested that the Police and troops of Operation Whirl Stroke (OPWS), be deployed to Abaji in order to protect the community and the main market.
"By today, Thursday, I will also be in Yooyo Council Ward for an on-the-spot assessment of the community," the Chairman said.