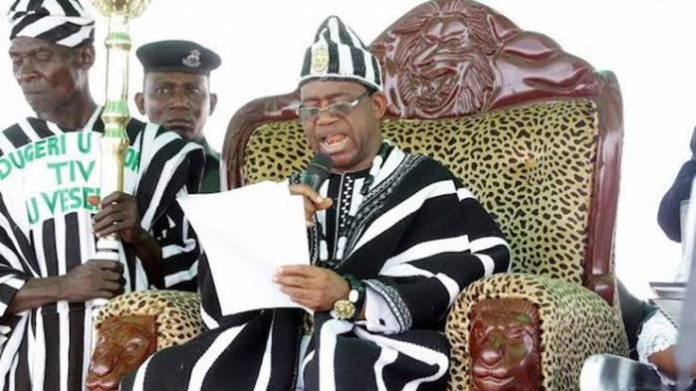 The Tor Tiv, HRM, Prof James Ayatse, has advised the Idoma people to continue to make their case with the political class to fulfill their dreams of becoming governor of Benue state.
The Tor Tiv stated this when he received Chief Patrick Ogbu, a gubernatorial aspirant on the platform of the People's Democratic Party (PDP) at his palace in Gboko, Gboko Local Government Area (LGA) of Benue state to pay him a private visit.
He also advised Mr. Ogbu to ensure that during his campaigns, he should dwell more on what he has to offer the people of the state than canvassing to be given the ticket based on tribal sentiments.
He stated that the Idoma nation appears to be more focused to pick the gubernatorial ticket for the 2023 governorship elections in the state.
READ ALSO: Jailbreak: Four Inmates Allegedly Killed, Prison Official Injured In Osun
The paramount ruler of the Tiv nation recalled that before the immediate past Och'Idoma went on permanent hunting, he had appealed on traditional rulers in the Tiv domain, to prevail on Tiv sons to allow the Idoma people have a shot at the governorship position.
Ayatse who stated that it was not within the powers of the traditional rulers to make such decision, however advised the Idoma people to continue to make their case with the political class because as royal father's, they do not involve in politics.
The paramount ruler prayed divine favour to go with Chief Ogbu as he embarked on the campaign towards achieving his political aspiration.
Earlier, Mr. Ogbu had told the Tor Tiv that he came to identify with him during this festive season and as a father of the people of the state, to inform him of his intention to run for the number one seat in the state.
According to him, the number one mandate of any aspirant would be to address the security situation in the state, adding that security would be the core mandate of his administration, if elected Governor in 2023