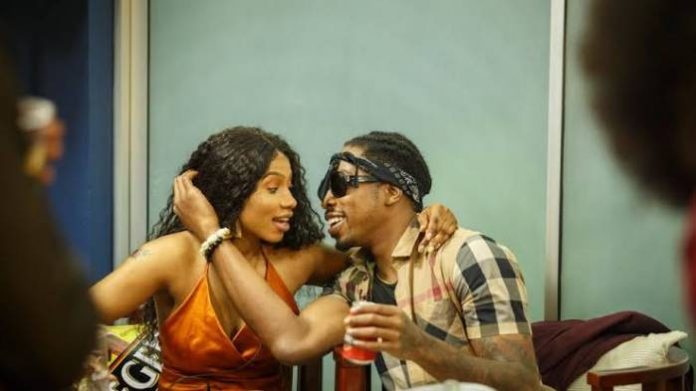 Big Brother Nigeria viewers are complaining about the screen time Mercy and Ike are getting.
Fans of the two lovebirds took to Twitter to call out organisers of the show about cutting out the couple on the show. The hashtag is now trending at No four on Twitter with over 5000 tweets.
The romance between the two housemates has been steadily growing and their fans want to see more of them.
Ike is up for possible eviction this week while Mercy is safe.
Below are some reactions from the lovers' fans.
@Raynergy
"Dear @BBNaija
It has come to our notice that you rarely show Mercy and Ike.
We spend money to subscribe & life stream only to end up watching boring content. This is not the content we signed up for.
Stop this unfair rationing and give #MoreScreenTimeForMercyAndIke
#BBNaija"
@nicksli01
"Dear @Ebuka
I hope you are seeing the bias against Mercy and Ike… Since you are on Twitter with us, and you read our tweets..try and tell your people to give our Mercy and Ike more screen time..if not we will scatter this show..#BBNaija #MORESCREENTIMEFORMERCYANDIKE
You only show mercy and Ike well after Saturday night party because you are expecting trouble, so you can disqualify either Ike or give mercy a strike..#BBNaija.#MoreScreenTimeForMercyAndIke"
@royayness
"2min of Mercy and Ike is more entertaining than 4hrs of other housemates…..facts only."
@sparkle600
"#MoreScreenTimeForMercyAndIke
Na beg we dey beg.
Stop shoving other hms down our throats."
@BBNFaves
"#BBNaija
My only wish for today is for hashtag #MoreScreenTimeForMercyAndIke to be the no. 1 trend in Nigeria. It's about time organisers & sponsors of this show realize that they can't play games with viewers, we spend money every damn week. They can't be sabotaging Housemates."
@90sSnack
"@DStvNg @GOtvNg @BBNaija @Ebuka @Bet9jaOfficial @MunchITNigeria @IndomieNigeria
Mercy and Ike are being denied screentime for days and it's not funny anymore, this is triggering and brash, we sub incessantly to see our entertaining champs.. #bbnaija
#MoreScreenTimeForMercyAndIke"
@naijainterativ
"When you come online to see #MoreScreenTimeForMercyAndIke trending globally, you know it is see gobe for other housemates and double wahala for Biggie. @BBNaija, would you dare to ignore the voice of millions, and play funny games with the real winner? We shall see. #BBNaija"
@Busiesam
"@BBNaija 👇This is what I've signed up for.. Mercy and Ike. I dont know what games you are trying to play, but please it won't work.This is the Pepper that I want 🌶🌶🌶🌶"
@NGO_SZA
"Many Ships have broken down in this house but Mercy and Ike have survived #BBNaija #MoreScreenTimeForMercyAndIke"
@officialkikeomo
"Major sponsor @Bet9jaOfficial
is against Ike.
Now we know why Ike was given Second strike.
@Amchizzy we must not take this lightly.
This is very unacceptable.
They must rescind the strike against Ike.
#MoreScreenTimeForMercyAndIke"
@prettyrandomm
"The kitchen utensils getting more screen time than Mercy and Ike #MoreScreenTimeForMercyAndIke"
@fallenhrts
"Cameras cut at awkward angles deliberately avoiding one side of the room whenever Ike and Mercy are there. If you don't want them on the show, please let them come home so we can rest and give them the money we would have spent voting
#BBNaija
#MoreScreenTimeForMercyAndIke"
@SaintAnosike
"Insulting other viewers and asking
#MoreScreenTimeForMercyAndIke
will do you no good!
Every #BBNaija housemate deserves equal airtime…. Don't be unfortunate!
VOTE Cindy to 32052"
@JOKEROCKET1
"Even the devil can't stop you now. 60mila for the main content.
#MoreScreenTimeForMercyAndIke. We die here."
@possibleoge
"We begged our friends to vote for our fave who is up for eviction, they say okay, let's watch him this week and know if he's worth the vote, they tune in to bbn, and for 3hours, our fave is no where to be found! how do we convince them to vote?😢😢#MoreScreenTimeForMercyAndIke"