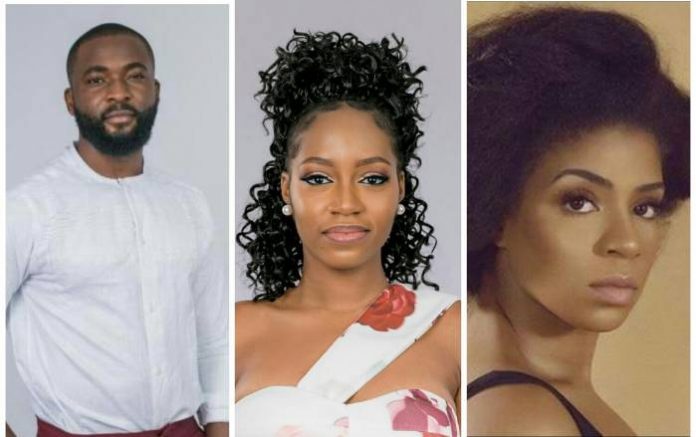 The love triangle in the Big Brother house involving Gedoni, Venita and policewoman, Khafi, is assuming a new dimension. Romantic sparks and fires are currently being ignited.
During Sunday Live Eviction show, the Anchorman, Ebuka Obi-Uchendu, asked Khafi what was going on between the three of them in the love triangle. Her response had infuriated Venita who has been accused of trying to pour sand into Gedoni/Khafi's garri.
Shortly after the show, Venita who felt irritated that Khafi had called her out, approached Gedoni to tell him that if she decided to set her compass on him, Khafi would not be able to withstand it.
"If I decide to set my compass on you, Khafi will not stand a chance," Venita told Gedoni who was dumpfounded.
Ebuka has been accused of knocking their heads together. He stirred the hornets' nest when he asked Khafi if she felt Venita didn't respect her relationship with Gedoni to which she confirmed that boundaries were being breached.
Gedoni and Khafi became a couple a few days into the show and have remained that way throughout, while
Venita came into the show in the fifth week and initially tried to hook up with Frodd but it didn't click.
Venita's mission remains unknown. Nobody can really say for sure what her game plan is as she tries to break into relationships in the house, starting with Frodd and Esther.
But social media is speculating that Big Brother must have given her a secret task to tackle couples in the house.
It will be interesting to see how it all unfolds.
Venita and Gedoni belong to Team Cruisetopia, while Khafi is a membee of Team Icons.