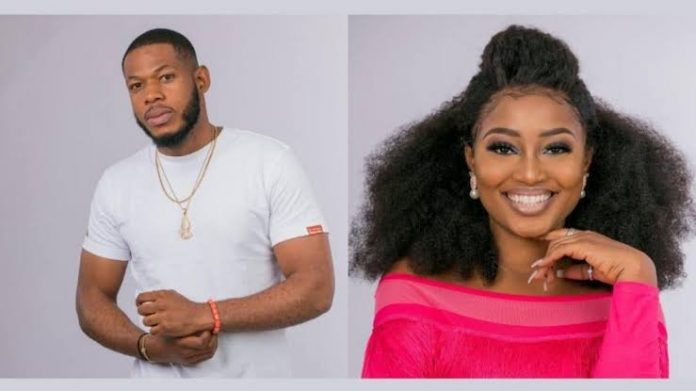 Although the Saturday night party in the Big Brother house ended on a good note, the hangover of the party has set the social media on fire as Frodd was caught trying to force himself on Esther, his love interest.
DJ Humility was in charge of music at the party and he didn't disappoint as he dished out latest vibes to the admiration of housemates who danced to their satisfaction. But shortly after the party, things of the hearts took over.
Frodd who was perhaps tipsy after some booze during the party had gone to Esther's bed in the wee hours of the morning to initiate some romantic moves, which Esther considered offensive and harassment.
While on Esther's bed, Frodd was actually seen with his pant halfway down struggling to make out with her. Esther didn't take his unruly behaviour kindly as she struggled to push him aside with a stern warning to stay away from her and return to his bed.

Biggie sensing that things may go out of hand invited Frodd to the Diary Room to implore him to return to his bed, an instruction that was promptly obeyed.
While some fans are worried that Biggie might wield the big stick, others are quick to argue that what transpired was not enough for him to get disqualified considering the fact that they were believed to be lovers.
Before the sad incident between Frodd and Esther, they both had a swell time at the party, which might have given Frodd the wrong impression that Esther was all his.
If, at the end of the day, Frodd who is already on the chopping board for possible eviction today, Sunday, August 18, 2019, gets evicted or penalized for unruly behaviour, Venita is likely going to have her best laugh. And he who laughs last, laughs best!