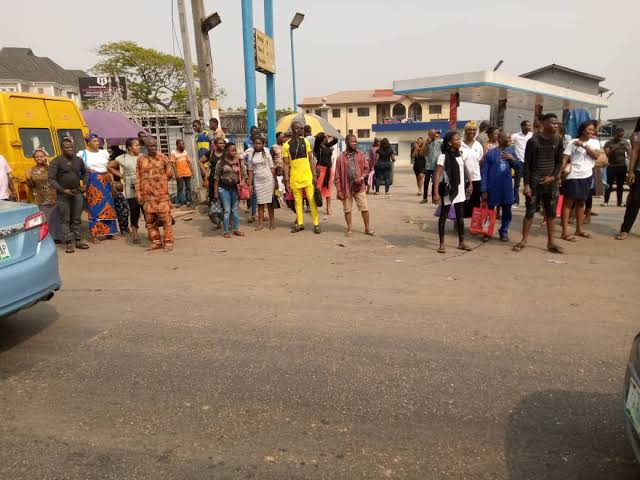 The Lagos State Government on Monday, January 28, announced a ban on the operations of Motorcyclists and Tricyclists in parts of the state effective from February 1.
The state Commissioner for Information and Strategy, Gbenga Omotosho, who announced the ban, said the commercial motorcycle (Okada) operators and tricyclists (Keke) would not ply on roads in 15 local governments and council development areas as well as all the highways and bridges in the state.
According to him, the ban was informed by the number of accidents resulting from the recklessness of the operators and the fact that the 'Okadas' and 'Kekes' are also used to perpetrate robberies in the state.
Following the coming into effect of the ban on Saturday, the Next Edition spoke to some commuters on their experiences.
Mr. Fred Igila, filled with anger and frustration when the Next Edition encountered him said: "I have never trekked such a long distance as I did today (Saturday). I trekked from Kilo area of Surulere to Agusto Close of Adeniran Ogunsanya.
"Since there's a ban on Okada and Keke in the whole of Surulere, many people had no choice but to trekk. The bus stops were crowded and the buses were almost not available.
"If Saturday is like this, I do not know what Monday will look like when workers will go to work. This government is just punishing people for nothing."
Mr. Igila also recounted the experiences of two other gentlemen whose office he had gone to at Agusto Close.
According to him, one of the men said he had to trek from Ijesha to the office while the other said he trekked from Aguda to the office and most likely, they will both trek home at the end of the day.
He wondered: "What kind of life is this?
Mrs. Olusola Shittu, though not stranded at the bus stop as a result of the ban since she owns a car, felt for commuters.
She told the Next Edition: "Look at how people are suffering. Look at the crowd at the bus stop. (Referring to Idi-Araba bus stop where commuters going to Yaba and Ojuelegba were stranded without busses). Why did the government have to ban Okada and Keke without alternatives? What are the people supposed to do?"
Mrs. Shittu lamented the insensitivity of the government, from the federal government to the local level, towards the plight of ordinary Nigerians. She said: "They say the worst democracy is better than the best military rule, I disagree. Certainly not the governments we've had in this country in the last 20 years."
For Mr. Michael Ibe, what he had intended to be a quick trip turned out to be a nightmare.
"Can you imagine trekking in this heat? If the bikes (Okada) were operating, from my house to Ojuelegba is less than 20 minutes. All I need to do is to stand in front of my house at Akanro Street, Ilasamaja, and pick a direct bike to Ojuelegba for between N150 and N200.
READ ALSO: Okada/Keke Ban: PDP Plans Big Protest In Lagos On Monday
"With the ban however, the bike ride now ends at Idi-Araba and the suffering begins. This government is cursed."
The Okada and Keke operators were not left out in the lamentation.
Mr. Chris a tricycle rider who hails from Anambra state, said he can't explain his thoughts and feeling regarding the ban.
However, he is considering locating to his village to try his hands on farming. His challenge, he said will be where to get a farm land as other family members are already farming their family lands.
Another rider who simply gave his name as Femi said he used to own his own rice business at Daleko Market, Isolo, until he was duped by fraudsters.
He said all efforts for him to return to his rice business failed to yield fruit.
According to him family members and business associates did not come to his aid hence he did not have a choice but to look for another means of livelihood.
Femi said he took a loan from a microfinance organization to buy his motorcycle and registered it under O'pay.' He had been happy for some time that he could now put food on the table for his wife and children only for Government to come up with this ban.
He complained bitterly of the insensitivity of the Government saying that they did not consider them before taking such decisions and hoped that the protest held last Friday will yield positive results. He said he will not work for now hoping that the government reconsiders its stance.
Olusola Ahmed, a driver, however sees some good in the government's decision even though he acknowledges that it also has some disadvantages.
"In a way the banning of bike/keke is a good idea, but it will cause so many things like, crime will be on the increase, unemployment will be on the rise and many livelihoods will be cut short. The trade which even women are venturing into in order to support their husbands has come to an end," Ahmed said.
Sulaiman Ibrahim lamented the hopelessness of their predicament.
He said: "Long distance ride pays more than short drops. When I carry two passengers from Ayobo to Ikeja I charge N1,000 for two passengers and if it is the rush hour period I charge N1,200 – N1,500
"Short distance drops will fetch you N100 to N200 for two passengers. I wish the Lagos state government will have a rethink and reverse the decision."
Ibrahim is not the only one calling on the Lagos State Government to rethink the ban.
On Friday, January 31, some organised Okada riders staged a protest at Alausa, the seat of Lagos government.
In a petition they handed over to the state house of assembly, they called on the government to rescind the ban.
Also, the Peoples Democratic Party (PDP) Lagos State chapter, on Saturday said it is giving Governor Babajide Sanwo-Olu till noon on Monday, February 3, to reverse the restrictions on okada and tricycles in the state.
Mr. Taofik Gani, PDP State Publicity Secretary, said it was already in talks with leaders of Civil Society Organisations to stage protests on the streets of Lagos if the hardship being suffered by Lagosians as a result of the ban, continued on Monday.
All the other respondents were also in agreement that the decision be rescinded.
Meanwhile, the travails of commuters in Lagos is not limited to the frustration of long waits at bus stops and long treks.
They will also have to contend with increased cost of transportation. Already commercial bus drivers on some routes have taken advantage of the situation to hike their fares.
A bus ride from Abule-Egba to Agege which used to be fifty naira (N50) has already risen to N100.
Also, a bus ride from Idi-Araba to Ojuelegba which used to be N50 has increased to N100 while Ojuelegba to Yaba, which used to be N100 is now N150.
As the saying goes, another man's meat, is another man's poison.