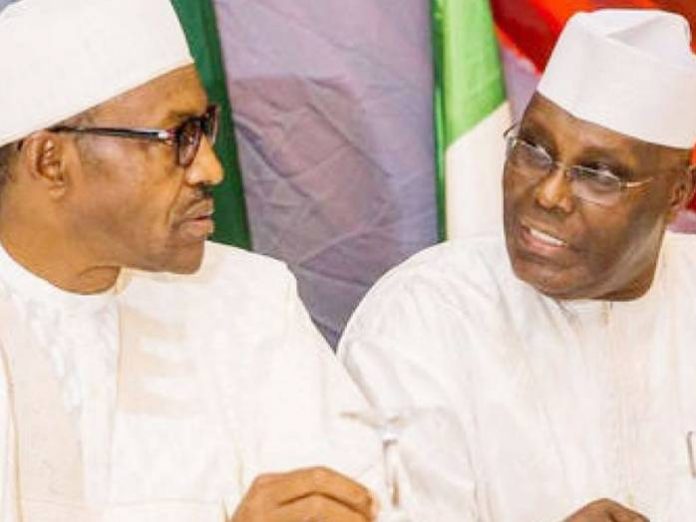 As Nigerians await the decision of the Presidential Election Petition Tribunal in the suit by the PDP and its candidate, Atiku Abubakar challenging President Muhammadu Buhari's re-election, some social media users have already given their verdict.
Below are some of their thoughts on how things will pan out.
@QdPaper
"I see a lot of people mocking Atiku saying thrash about him despite the woeful performance by Buhari So far.
People complaining about
Xenophobia
Bandit
Boko haram
are the same people who do not want atiku to win. Pathetic."
@kinnsokoye
"I don't have much but I will be giving 2k to 10 Nigerians if @atiku wins today. Follow and retweet.
Keep your DMs open I will massage you directly."
@NekkaSmith
"All the able bodied men and women that said Atiku is a Camerounian , how market ?
The PEPT just struck this out as incompetent and diversionary.
Atiku has raised the bar and this is where I doff my hat for him.
We have never seen a Judicial process of this magnitude in Nigeria's history.
#AtikuHopeOfNaija"
@Tastygmgb25
"Forget it, Atiku will win this one just to make it seem like our judicial system is working and the @OfficialAPCNg and Buhari will take it to the Supreme Court where Buhari will be declared winner! Watch out the #NigeriaElectionFilmSeason1″
@Olubobo12
"#JudgementDay kor, Terminator 2 ni!
#AtikuIsNotComing abeg"
@If #PEPT rules that Buhari is the winner without his qualifications to be President, I'm resuming work as GMD of @NNPCgroup as the GMD on Monday. Nobody should tell me rubbish. Who is with me? "
@SirBelluchi
"#JudgementDay Because of money, these guys will never tell @atiku the truth. Las Las they will join Nigerians to say #FareWellAtiku because
#AtikuNoCum"
@i_amFIZZIE
"Are you guys still expecting miracle to work.. I and few sensible Nigerians lost confidence in the judiciary the very day Buhari forcefully removed Onnoghen and installed his boy."
@Marylinbeckas
"Today will leave a mark on our judicial system. This is to be believed no matter how the judgement of the Presidential election petition tribunal goes. It will also go a great length in affecting Nigeria and Nigerians as a whole."
@johnnysleek
"#JudgementDay
That feeling when you already know #AtikuHasNoCase
#FareWellAtiku"