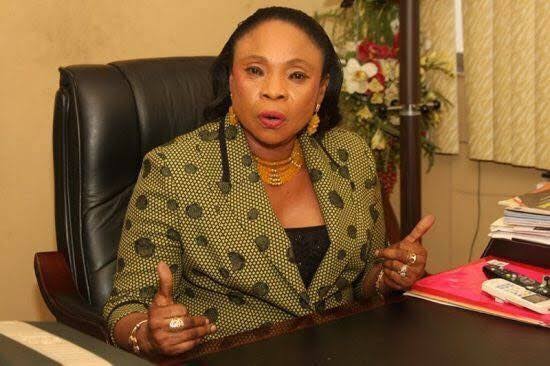 I don't know how old Fatima Daura is, but his father, Mamman Daura, should flog her. She has dis-respected both President Muhammadu Buhari and, First Lady, Aisha Buhari. In the process, she has, also, desecrated the Presidency. There is no precedence.
You must have heard of Mamman Daura. In the Buhari administration, he is large. He stands like a colossus. True or false, many things are attributed to him. He is President Muhammadu Buhari's uncle (some say nephew) and friend.
His daughter, Fatima, tells us they are closer than that. She says that they are not only related and friends, but were brought up together. For good measure, she adds, "They are twins", so we understand how close.
No wonder, it is alleged, that Daura is one of the most powerful men around the President.
They say he is the power behind the throne.
They say he is very influential.
They say, with him, everything, almost, is possible. They say he is like a clearing house.
When people, including the President's wife, Aisha, talk about the Cabal in the Villa, fingers are pointed at him. He is the Headboy of the Cabal, they insist.
The man has not denied the crown.
Aisha Buhari
He hardly talks. He is hardly seen at Presidential functions, or other social events.
He works from behind. A quiet, smooth, operator. He does not stand in your face. Yet, he is what he is: Large. Influential. Powerful.
No wonder he is held in great awe. In government and business circles, he is revered.
But Fatima has dragged him into the public domain. And, not a few Nigerians are outraged.
Three incidents forced themselves on us these past few days. Thanks to the ever buzzing and aggressive Social Media, we were treated to a "wedding" between the President, and his Minister for Humanitarian Affairs, Sadia Umar Farouk, 44. Then, First Lady, Aisha, suddenly returned to Nigeria after over a two-month absence.
The third, from which the title of this write-up emanated, is the scandalous video of the altercation between Aisha and Fatima Daura in the Villa.
So, I begin with Buhari's fake wedding to Farouk.
When I first saw the lovely "wedding photographs", I burst out laughing. Farouk dazzled. And I said to myself, our President has an eye for beautiful women. But I knew it was fake.
Mr. President seems, to me, very disciplined in that department. His age and health aside, he seems a one-woman man. To him, one is already a handful!
READ ALSO: El-Rufai's Son, Tunde Bakare And Sowore
lso felt that Buhari wouldn't appoint a Minister, and marry her two months later. It makes no sense. On top of that, he gave her a portfolio, that would keep her so busy she will not even have the time to massage him, not to talk of the more rigorous activities in the "other room". You know, those cheeky fellows say she is a massage specialist.
Whoever fabricated that story, the accompanying invitation cards, and the photographs deserve an award. Very imaginative and talented, but shouldn't be allowed to get away with it. The borderline was crossed. The public was deceived. And the blood pressure of some people shot-up a notch. Seeds of doubt were planted within the Buhari and Farouk families.
Poor new Minister Farouk, from New York where she was on an official duty, she issued a statement telling us: "The First Lady is my friend and sister". She needed to do that.
Aisha has many fans. Sadly, her ministerial tenure will now be dogged by this fake wedding.
Security agents should fish whoever wedded Buhari and Farouk without their knowledge, and shame him/her for what they are: A bunch of nuisances and home breakers.
It may have been a coincidence, but Aisha suddenly came back, just when the story of the "wedding" was rocket-high.
Her absence from the country had been a subject of interest. Speculations reigned. The reason for her absence ranged from her protest over her husband's relationship with Farouk, and her subsequent appointment as a Minister, to Aisha storming out of Nigeria because being a blunt person, she didn't like the state of affairs in the country, to the famed cabal suppressing her, to her husband clamping down on her, and to IPOB's absurd claim that she absconded because she, finally, found out she had been living with a stranger, Usman, not the gallant General who swept her off her feet.
The surprise is that neither her office, nor the Presidency said a word to stop the wild speculations. When somebody finally woke up from a deep slumber and did, it was not only late, it was weak. We were told that as a private citizen, Aisha was free to travel and stay away as long as she wanted. Of course.
Except that she is not a private citizen.
She is not just the President's wife, she is Nigeria's First Lady. She asked us to call her the First Lady, not the Wife of the President which she had favoured during her husband's first term. He appointed, for her, she has just told us, six Special Assistants, excluding a number of Personal Assistants, to help her run her office. They are paid with tax payers' money. So, she is not a private citizen. Yet, somebody chose to mismanage her absence.
But a sure-footed stormy petrel, on arrival, she told Nigerians the truth. She said she had been away, on extended holiday, for health reasons, on the advice of her doctor. So, question: what was wrong in her managers telling Nigerians she was resting on the orders of her doctor? If she is ill, she is ill. She is a human being. Why the secrecy which allowed the speculations? Then, again, the timing for her return was mismanaged.
Why at the peak of the fake news about her husband taking a second wife? It was as if she rushed back in panic. She had been away for two months, plus, three months wouldn't have made any difference. Her sudden return, almost, confirmed she hurried back to protect her territory. She capped it by making a statement on the fake marriage. She shouldn't have. At best, she should have dismissed it in one word: FAKE!, and moved on.
But it was a week everything conspired to go wrong. Which was why Fatima Daura timed the release of the scandalous video of her altercation with Aisha, over the occupation of an apartment, to coincide with Aisha's return. She stole the show in a negative manner.
Thanks to Fatima, we now know that her father, not elected, or appointed, to any position, has been living, for free, with his family in the Villa. They were living in the Glass House, she told us, and now , allocated an even bigger apartment in the same Villa. So you ask what qualified her family for that privilege. And, she answers swiftly: Her father is the President's friend and relation. His twin brother!
In case Fatima does not know, following are what she did.
She told us her family has been eating off Nigerians. That a number of their bills are picked by tax payers.
She exposed the side of the First Lady not quite known: A woman given to uncontrolled anger that screams at the slightest provocation and calls her security details "bloody idiots."
She presented our First Lady as a violent woman who picked up a metal chair and wilfully broke a door in a public house. In case Fatima does not know, the Glass House is a public building.
If the damaged door has been repaired, it was with public funds. She presented the First Lady as a non-compassionate woman, who in the process of asking them to quit from the Glass House, almost hit her (Fatima's) younger sister with a chair.
She presented her as an insecure and frustrated woman who is obsessed with being suppressed, and her space taken away. Perhaps that explains Aisha's repetition in the video: "Enough is enough, I need to know when you are leaving?"
The irony? This was a fight over a public house. The Dauras, thanks to the President, were given the Glass House to live in. More than three years after, the President gave them an even bigger apartment to live in. This was to allow Buhari's son, Yusuf, who was recovering from an accident stay there. Immoral as the occupation of the apartment by the Dauras is, what was wrong in asking them to make way for Yusuf? The Buharis, until the end of the President's tenure, are the landlords in the Villa.
Neither Aisha, nor Fatima, has told us the real reason behind that confrontation. Moving out from a house to another, within the same environment, was not enough for this "wahala".
The Glass House is not part of the First Lady's apartment. Knowing that the Dauras were still there, what did she go there to do? She says the doors were locked. Would they have left the doors open since they were still living there?
Did the Dauras deliberately delay in moving out from the Glass House to the bigger house? Perhaps.
But even then, was it the First Lady's job to ask them out? Did she discuss with her husband who gave them the apartment? The story does not add up.
Whatever, I am outraged at the disrespect shown the First Lady by Fatima Daura. I am shocked that, according to the First Lady, Fatima had the guts to mock her, and laugh at her. I am shocked that Fatima could video such an ugly incident before Mrs. Buhari's Security guards.
According to Mrs. Buhari, her security guards stood by, and did not stop Fatima. Lord, have mercy!
That was very disrespectful to her and her husband, the President. But the First Lady explained it away. The Security Guards, obviously DSS personnel, did nothing because Fatima is Mamman Daura's daughter. And the connection: Lawal Daura, the DSS boss at the time of the incident, she hints, got the job, thanks to Mamman Daura!
Fatima did not stop at recording Aisha, she leaked it to the media, and followed up with a more damaging interview explaining what happened. Who asked her?
She insists she has more video shots of the embarrassing incident. So, clap for her.
Obviously, somebody is pushing her. Otherwise, the incident happened about two years ago, why release the video now? Why talk about it now?
For the records, I am scandalized that Aisha responded to that video and Fatima's interview.
That was not dignifying. She should have ignored her. So now, we know how many soldiers and policemen we have in the Villa – 400!
Which country makes public the number of security personnel guarding its Presidential Villa?
The Presidency, according to reports, says it is investigating the video for confirmation. Good.
Fatima is not denying. She is at home with what
she did. If her father does not "flog" her for this mischief, she could release more. She should be called to order. She has not only embarrassed her family and the Buharis, she has also exposed Nigeria to ridicule before the civilised world.
Finally, the Security Guards who watched as Fatima videoed the First Lady, and did nothing, should be held responsible for this shame of a nation. How low can we descend?