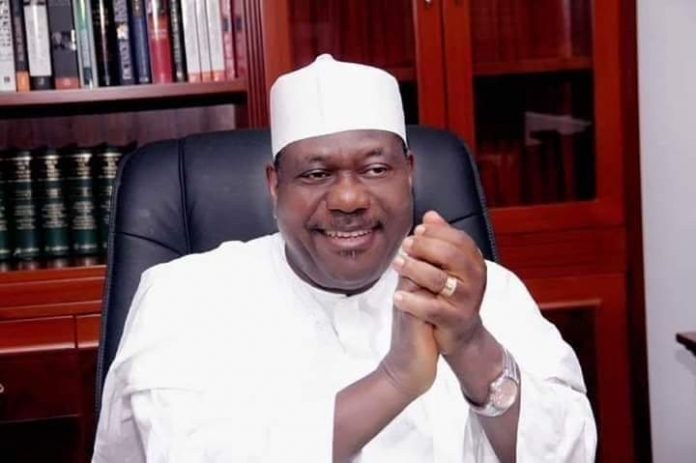 The Minister of Special Duties and Intergovernmental Affairs, Senator George Akume, has called for hitch-free revalidation and registration exercise of his party, the All Progressive Congress, (APC).
Akume made the call on Tuesday when he flagged off the revalidation and registration exercise of the party's membership at Mbakor Central Youth Polling Unit, Wannue, Tarka Local Government Area of the State.
AKume who was registered with APC registration number BN/WNN/20/0001 at the Mbakor Central Youth Polling Unit described the exercise as a sensitive one which must be taken seriously as a necessary tool for every APC member to decide their candidates in the forthcoming elections.
The former governor of Benue state said he got himself registered to further authenticate his membership and also to prove to the world that APC was not manufacturing figures but truly has large number of supporters in the country and in Benue in particular.
Akume urged Benue youths to take adequate advantage of the numerous presidential initiatives in education, agriculture, business amongst others to improve their living standard.
According to him, the ongoing dualization of Keffi-Makurdi road, rehabilitation of Gboko-Makurdi road were some of the things President Muhammadu Buhari was doing to alleviate the sufferings of the masses and improve their living standard.
READ ALSO: Unhealthy lifestyle accelerates ageing – Geriatrician
He also commended the President for approving the establishment of a Federal Polytechnic at his home town, Wannune, Tarka, Local Government Area, assuring that more projects were underway for the state.
Earlier, the Chairman, Benue Revalidation and Registration Panel,  Mohammed Mashi, said he was proud to register the leader of the APC in North Central, Sen George Akume.
Mashi disclosed that the exercise was "not a do or die affair" and regretted the death of the Gboko ward chairman who was killed during the training of Ward supervisors and polling units officers for the revalidation and registration exercise.
Another party chieftain who spoke during the exercise, was Senator Barnabas Gemade, who pledged to work for the victory of the party in the forthcoming general elections.