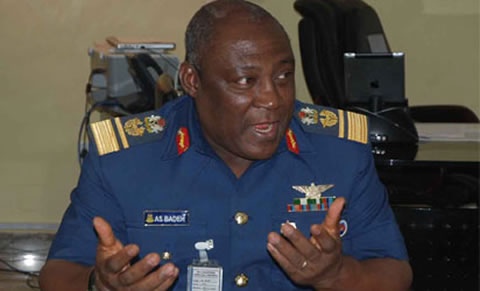 An investigating officer with the Economic and Financial Crimes Commission (EFCC), Mr Tosin Owobo, on Tuesday told a Federal High Court in Lagos how N22.1 billion belonging to the Nigerian Air Force was moved into some private companies' accounts.
Owobo made the revelation when he testified at the ongoing trial of a former Chief of Air Staff, Air Vice Marshall Adesola Amosu and 10 others charged with N22.8 billion fraud.
Amosu was on June 29, 2016, arraigned by EFCC alongside Air Vice Marshal Jacob Adigun, Air Commodore Gbadebo Olugbenga and eight companies.
The companies are Delfina Oil and Gas Ltd, Mcallan Oil And Gas Ltd, Hebron Housing and Properties Company Ltd, Trapezites BDC, Fonds and Pricey Ltd.,  Deegee Oil and Gas Ltd, Timsegg Investment Ltd. and Solomon HealthCare.
The accused are standing trial on charges bordering on conspiracy, stealing and money laundering.
They had pleaded not guilty to the charges and were granted bail.
In his testimony before Justice Mohammed Idris on Tuesday, the witness disclosed that investigations by his team revealed that a bank staff, one Funke Osisanmi, carried out every debit transactions done on the Air Force account after receiving instructions to that effect from Air Commodore Gbadebo.
"If debit were to be made from the account, she receives instructions from Air Commodore Gbadebo and debit the account following which she liaised with various Bureau de Change (BDC) operators for the conversion of the money to foreign currencies," he said.
He listed the BDC's involved in the transactions as Lebol Oil and Gas, Judah Oil and Gas and Right Option Oil and Gas.
The witness said following interrogation, Osisanmi revealed that after conversion, she usually handed over the foreign currencies to either Air Commodore Gbadebo or other officers.
Owobo said N5.9 billion was moved to Delfina Oil and Gas Ltd; N6.1 billion was moved to Mcallan Oil and Gas Ltd.; Trapezites BDC got N3.6 billion; N800 million was moved to Deegee Oil and Gas Ltd while N700 million was moved to Timsegg Investment Ltd.
"In all, about N21 billion was moved from Air Force account to these companies and there were no contractual agreement or Memorandum of Understanding (MoU) between these companies and the Air Force before these funds were transferred."
The witness added that the funds moved to the companies were eventually used to purchase property in Nigeria and abroad for the service chiefs.
On efforts to recover the fund, Owobo said: "We were able to recover some of the accounts that received funds from NAF.
"The first defendant (Amosu) also raised draft and refunded over N2 billion to government coffers.
"The property were traced and marked. We visited the property in Nigeria and most of them have been handed over to the Asset Management Division of the EFCC after obtaining orders of interim forfeiture from court."
Justice Idris has adjourned further hearing until October 4.
The accused were alleged to have indirectly converted N3.6 billion belonging to the Nigerian Air Force to their own.
The EFCC also alleged that Amosu and the others stole over N323 million from the accounts of the Nigerian Air Force between March 21, 2014 and March 12, 2015 and the money was utilised for the purpose of purchasing for themselves a property situated at No.1, River Street, Wuse II, Abuja.
The offences, according to the EFCC, contravened Sections 18(a) of the Money Laundering (Prohibition) (Amendment) Act, 2012.
(NAN)