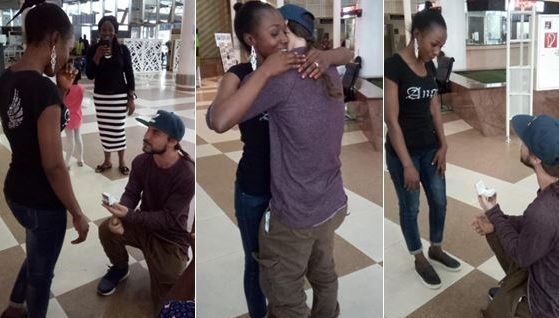 Christopher Chesnut who visited Nigeria for the first time on Wednesday, November 21, 2018, to meet his girlfriend is set to wed her today, Saturday, November 24.
The traditional marriage will take place in Jos, Plateau state, Nigeria, the bride's home state.
It was a beautiful scene at the Abuja airport on Wednesday as the two love birds who met on Facebook got engaged after meeting each other for the first time.
READ ALSO: Things to Consider in Your First Year of Marriage
Christopher Chestnut arrived in Nigeria for the first time to meet his girlfriend, Leah Athaliah Amishe and wasted no time in going down on one knee to propose marriage to Leah who gave a big YES!
This is Chesnut's first time in Africa, he traveled all the way to find the love of his life.