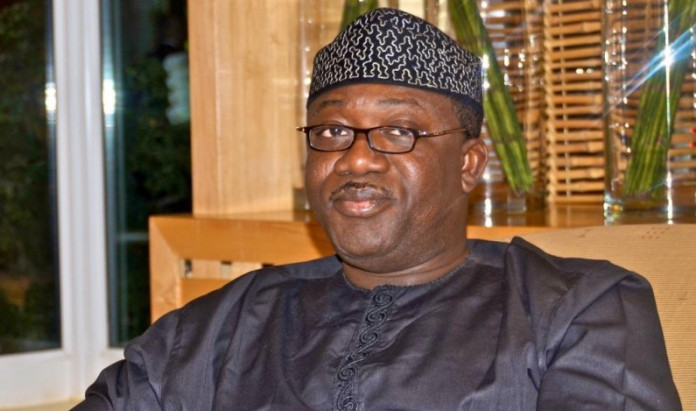 Minister of Mines and Steel Development, Dr Kayode Fayemi , has been advised to drop his legal action threat over the inclusion of his name among ministers receiving double emolument.
Mr. Adetokunbo Mumuni, Executive Director, Socio-Economic Rights and Accountability Project (SERAP), gave the advice in a statement on Sunday in Abuja and described the threat as a "distraction and unjustified".
He said that the threat could only serve to undermine legitimate efforts at promoting transparency, accountability and sustainable development in the country.
Mumuni said that Fayemi 's dramatic accusation regarding the content of SERAP's letter to the Attorney-General of the Federation and Minister of Justice, Mr Abubakar Malami, was unfounded.
He said that this was especially based on Fayemi 's claim that the law allowing pensions for governors in Ekiti State was passed during his tenure as governor of the state.
He explained that SERAP's position on the issue was stated after the minister, in a statement, accused it of embarrassing him by including his name in the list of political office holders receiving double pay.
SERAP, in the letter to Malami, had demanded that ex-governors now serving as ministers and senators should return the pension being collected from their states because it amounted to double emolument as they were currently receiving salaries.
Fayemi gave SERAP seven days to remove his name from the list and retract the publication or face legal action.
But Mumuni said that the minister ought to join SERAP in promoting and supporting legislative measures to redirect public funds being spent on pensions to former governors, to the benefit of disadvantaged Nigerians.
He said that the states' laws on life pensions for governors were unfair and discriminatory.
"Our objectives remain to promote the abolition of those obnoxious states' laws, which seek to allow former governors to receive life pensions either now or in the future when friendly governments are in place in their states, and to secure full recovery of public funds."
Recalling the content of the letter to Malami, Mumuni said "the problems of former governors receiving double pay and life pensions are real governance issues and deserve serious attention.

"These have to be put in the context of the allegation that state governors have over the years stolen in excess of N1 trillion, including bailout funds meant for the payment of workers and pensioners in their states.
He said that SERAP's aim was to let Nigerians know that such laws existed in some states, and to show what state governments could do with Nigeria's commonwealth if governors focused on the right priorities.
The director said that the priorities were health, education, timely payment of ordinary workers' salary and backlog of pensions for millions of pensioners struggling to enjoy the fruits of their labour.
He said that those ought to be the concern of state governments rather than enacting laws that allowed former governors to draw unfair pay and life pensions "for simply serving for four years or eight years."
Mumuni said that SERAP had no reason to apologise for doing its work and would never back down from pursuing those matters.
He said the group would also continue to work even harder to ensure that states' laws allowing former governors to claim either presently or in the future life pensions, were declared illegal and abolished.
"Other governors that may not be presently claiming life pensions will potentially be entitled to receive such pensions in the future when friendly governments are in place in their states.

"These states' laws allowing former governors to receive life pensions either now or in the future have a discriminatory purpose that involves an intent to discriminate against ordinary workers and pensioners.''
Mumuni said that such laws enhanced the economic status of public officials and their families at the expense of the citizens that they were elected to serve.
According to him, such laws have no legitimacy at all, and cannot be justified either on legal or moral grounds.
He said that SERAP was concerned that such laws had either the purpose or the effect of denying citizens their right to enjoy their commonwealth, thus prolonging the existing and entrenched poverty gaps across the country.
Mumuni said that abolition of such laws was, therefore, necessary "first step" toward delivering on the constitutional promise of equal protection and equal benefit of the law for a distressingly large number of Nigerians.