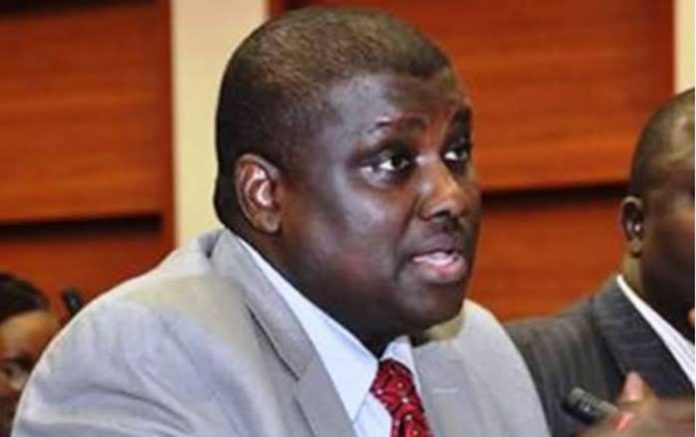 A Federal High Court in Abuja has ordered the Senator representing Borno South, Ali Ndume to produce in court former Chairman, Pension Reform Task Team, Abdulrasheed Maina, within 21 days.
READ ALSO: N851m Deposited In Tranches Into Accounts Of Companies Allegedly Owned By Fayose – Witness
The order by Justice Okon Abang on Monday
followed the refusal of Maina to show up for the continuation of his trial.
Maina, alongside his son is being tried for alleged money laundering to the tune of N21bn.
He has consistently failed to show up for the continuation of his trial since he was released from custody on bail.
He was suretied by Senator Ndume.
At the resumed trial on Monday, when Maina failed to appear in court, lead prosecution counsel, Farouk Abdullah, pointed out that Maina was still absent and sought the court's permission to apply that Maina's bail be revoked while Ndume is ordered to pay the N500 million bail bond which he signed.
He also sought an order to allow the prosecution to continue trial in Maina's absence, as provided for under Section 352(4) of Administration of Criminal Justice Act (ACJA).
When asked about his client's whereabouts, Francis Oronsaye said: "The information we have is that the defendant is admitted in hospital after the surgery. He (Maina) said he was undergoing treatment after the surgery and the location was not disclosed."
The lawyer urged the court to discountenance Abdullah's suggestions, adding: "My lord, the liberty of the defendant is an issue and we submit that utmost care ought to be taken before such liberty is tampered with, especially as the law still presumes him innocent."
The judge then turned to Ndume and asked why Maina was not in court.
Ndume who said he didn't know, told the court he was pressured by Maina's relatives and political friends to stand surety for him.
He said: "As a senator serving him (Maina), his family, wife, mother and uncle appealed to me to stand as a surety. I went to prison to confirm for myself whether he was actually sick and the prison officers told me that he was actually sick. He appealed to me to be his surety so that he could have access to medical attention.
"Orji Kalu (ex-governor of Abia State), when he was in prison then, Joshua Dariye (ex-Plateau State governor) and former Governor of Taraba, Rev. Jolly Nyame, all appealed to me in the prison to assist him.
"It took me eight months my lord to take that decision. In fact, I have to be given an indemnity by his uncle; signed by me, him and a lawyer that Maina would always be in court.
"He guaranteed but since that day, I went to Maitama Hospital to check their record, I went to Abuja Clinic, I went to the house he is purported to be living in Jabi, Abuja.
"This is one of the professional hazards we face as lawmakers, representing the good, the bad and the ugly.
"If I was not a serving senator, I wouldn't have cause to stand as surety.
"I am helpless before you my lord. I appeal that such innocent citizens like me holding a public office for over one million people should not be subjected to this."
The Next Edition recalls that a video recently surfaced where a 'journalist' interviewed Maina on his hospital bed.
Neither the hospital nor the journalist list was named in the video however, Maina had claimed he would continue his trial whenever his doctors declared him fit to do so.