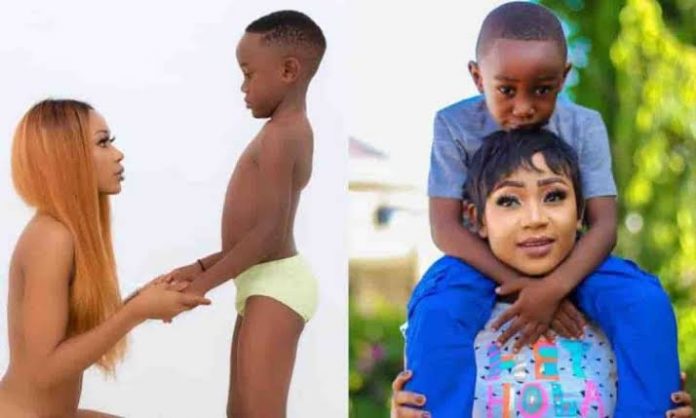 Ghanaian actress, Rosemond Alade Brown, also known as Akuapem Polo, has reportedly been arrested by the Police.
She was arrested for indecent exposure after a nude birthday shoot with her seven-year-old son.
A couple of days ago, the actress Alade Brown shared on Instagram naked pictures she took in a bid to celebrate her son's birthday.
In the picture, the actress was seen completely naked while her son was wearing just a pant.
According to the mother of one, she decided to go unclad for her son's birthday because she wasn't wearing any clothing on the day she gave birth to him too.
She, however, disclosed that it is not much of a big deal for her if her son sees her nakedness.
Read all Alade wrote below;
"Son today reminds me of the very day I gave birth to you with no stress and with no regret…..
READ ALSO: Wizkid, Beyonce Make 'Brown Skin Girls' Video
"30th June 2013 exactly 4:46 am Sunday Haha I still remember this date paa because it's really meant a lot to me. I only felt the 30 minutes pain when you were turning to come out you were soo good to me.
"I gave birth with no complication, no cut no disability Haha I love you son. You see how you look at me always remember that I love you. I'm naked in front of you because this is how naked I was giving birth to you.
"So in case you find me naked lying somewhere don't pass by me; but rather see me as your mom who brought you to life. HAPPY BIRTHDAY TO YOU @sonof_poloo."
However, Akuapem Poloo has since apologized after facing social media backlash.
In other news, a statement by Child Rights International, the non-governmental organisation deemed her act as a 'violation of the welfare principle of the Children's Act and abuse of the child's right to privacy and dignity.'
The organisation also asked that the Inspector-General of Police in Ghana investigate the actress over the nude photo with her son. (1stnews)