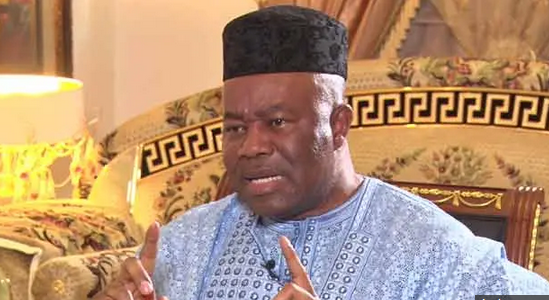 Retired DIG of Police Udom Ekpoudom, in an interview he granted the Punch newspaper today, allegedly claimed to have won the Senatorial ticket of the APC for the Akwa Ibom North West District and went further to lie against all known facts that former Minister Niger Delta Affairs, Senator Godswill Akpabio, offered him a ministerial position for him to step down from the Senatorial contest.
Ordinarily, we wouldn't have dignified this unfounded claims with any response, but for the interest and information of the unsuspecting members of public, who could be taken-in by this bare faced lie, we have to state at follows:
That Udom Ekpoudom was never the candidate of the APC for the Akwa Ibom North West Senatorial District and as such, there wouldn't have been any reason(s) for him to be asked to step down for Senator Akpabio.
That The Senatorial Primary, he claimed produced him as the candidate, is NOT recognized by the National Working Committee (NWC), which is the legally recognized body to organize such event.
It is a known fact that Senatorial primaries of the party took place across the country on the 28th of May and not on the 27th of May, where he purportedly claimed he "emerged" the "candidate"
READ ALSO: Dutch Tennis Coach Banned For 12 Years Over Match-Fixing
The only recognised primary election for Ikot Ekpene Senatorial District, was the one ordered and supervised by the NWC of the party on the 28th of May.
That It was Obongemem Ekperikpe Ekpo, who was declared winner of the primary, but because of security infractions which characterised the exercise, it was cancelled and a re-conduct of the exercise on the 9th of June, was ordered and conducted, where Senator Godswill Akpabio emerged the winner.
There was no time and infact, there wasn't any need for anybody, not to talk of Senator Akpabio, to have asked Udom Ekpoudom to stepdown, when it is a known fact that he wasn't and was never the candidate of the party at any point in time.
We understand the frustration the former Police Chief is currently going through with his phantom senatorial candidacy. The frustration has made him to embark on a pity-party trip for cheap recognition and unmerited sympathy.
We will advise retired DIG Udom Ekpoudom, to focus his energy on blaming those who took him on political wild goose chase, abandoned him to sink deep into political irrelevance, while they seek political succour for negotiation on another platform and not on the former Minister.
*A Press Statement Issued By Jackson Udom, Chief Press Secretary To Senator Godswill Akpabio: