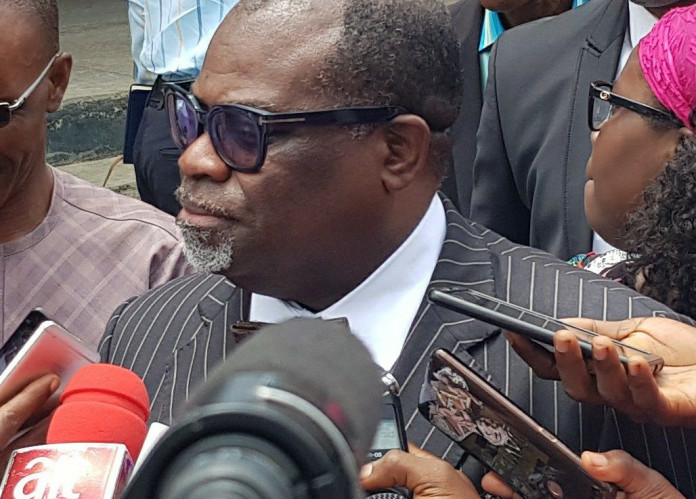 The legal battle for the Akwa Ibom North West Senatorial seat has begun at the National Assembly Elections Petition Tribunal sitting in Uyo, Akwa Ibom State.
The battle is between Senator Godswill Akpabio, who is currently occupying the seat and Dr. Christopher Ekpenyong and four other respondents.
Akpabio, who contested for a second term under the platform of the All Progressives Congress, APC, is challenging the declaration of Ekpenyong of the Peoples Democratic Party, PDP, as winner of the February 23, 2019 National Assembly elections by the Independent National Electoral Commission, INEC.
The other respondents in the suit are, the Peoples Democratic Party, PDP, INEC, Returning Officer and Resident Electoral Officer, Mr. Mike Igini.
At Tuesday' proceedings, Mr. Sunday Ameh, SAN, Mr Adekunle Oyesanya, SAN announced appearance for the petitioner, Akpabio, while Mr. Kanu Agabi, SAN, Mr. Solomon Umoh, SAN and Ms. Oluwaseun Oluseyi announced appearances for Ekpenyong, the PDP and INEC respectively.
READ ALSO: INVESTIGATION: How bribe-taking security operatives, gangs force Nigerians to pay dearly for food (PART 2)
The tribunal heard two applications earlier filed by Agabi, SAN, and adopted by counsel to other respondents.
In the applications, Agabi sought to dismiss Akpabio's petition and set aside the order granted him for inspection of election materials kept by INEC. He also sought for an order setting aside the petition on grounds of lack of jurisdiction.
Counsel to the PDP, Solomon Umoh, SAN, also prayed the tribunal to set aside the petitioner's request for forensic analysis of election materials and "dismiss all reliefs granted to the petitioner," alleging that the inspection process of the election materials had been prejudiced.
He said that the "only grounds of obtaining an order must be by motion on notice," which, he claimed the petitioner failed to file.