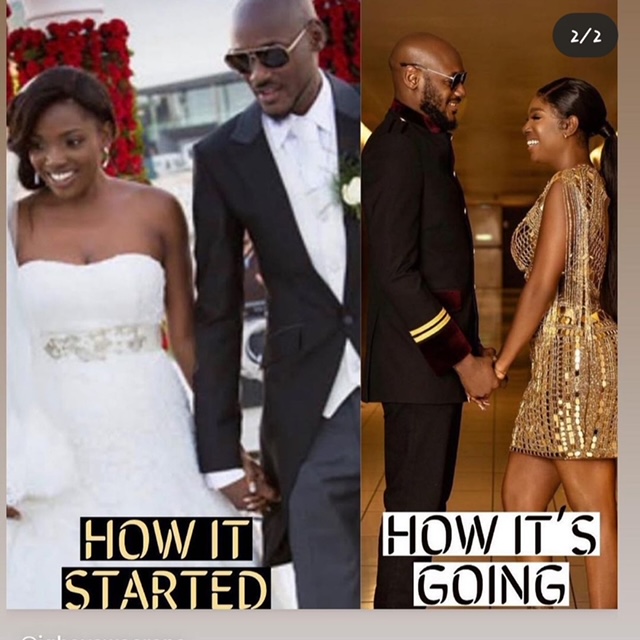 Nigerian actress, Annie Idibia, has tendered an apology to her husband, 2Face Idibia, on Instagram over her emotional outbursts in September.
The actress who turned 37, November 13, 2021, said she would be starting this new chapter of her life on a clean slate.
She wrote, "It's A Brand New Chapter For Me. And Would really Love To Start It On A Clean Slate . This Year Has Been A lot. Soooo Much Blessings And Pain. My Hands Are Shaking As I Type This ….I Let A lot Of pple down ..Especially The Pple Close To Me."
"The Last 10Weeks Have Been The Worst Of My ENTIRE Life , Yes The Worst Since I Was Born … I have Gone From Being So Angry To being So Broken And Back To Anger .. And Then Sadly ,Which I Am Ashamed To Admit – Suicidal! "
READ ALSO: SPORTSFLAKES: SHOOTING SHOT THEMSELVES IN 1977
"Instead Of Remaining Calm .. Before Acting …  I Want to Apologize To My Husband, Inno .. I Am So Sorry I Threw You Out There Like I Did , (so unwise ) That Isn't The Kind Of Woman You Married, Totally Sorry For all the Mental Stress And Heart Break It Caused You , So Sorry I Put Both Our Families Out There I, The Way I Did I still Bi Your Smallie oo*"
The movie star also apologized to her inlaws and family members for letting them down during her meltdown.
"To My Beautiful Mothers .. My Amazing Mother And My Beautiful Mother In- Law .. I am Sooo Sorry I Let Both Of You down .. No Mother Should Go Through The Kind Of Pain That You Both Felt .. I Am Really Sorry (I am still your baby) I am Far From Perfect, But I Have Decide To Choose Peace . And I Wanna Do Better , Given The Chance."
"To Both My Families- The Macaulays And The Idibias , I Am Sorry For All The Pain And Disrespect Towards Both Familes… Pls Forgive Me .Una No Fit Throw Way Una Pikin ooo To all my 7.1 Plus Family out here .. Thank you for still standing n supporting me and my brand."
She also apologized to the brands she's working with, her manager and her fans.
In September, the actress called out her husband and one of his baby mamas, Pero over their suspicion relationship.
She also accused her inlaws for not loving and caring about her since their marriage.