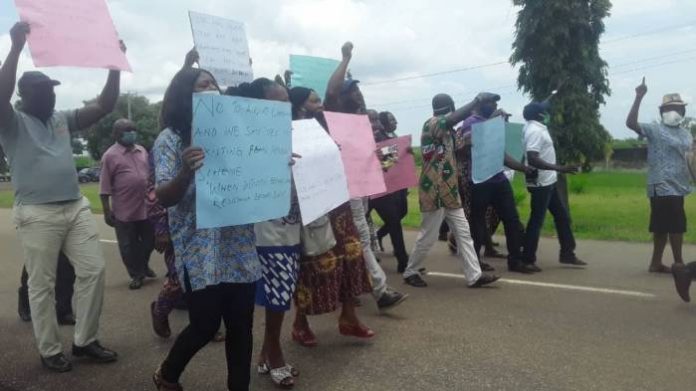 Staff of the Federal Airports Authority of Nigeria (FAAN), in Benue State have protested against planned concession of four international airports in the country.
The FAAN staff who held prayer session before taking to the streets, are also kicking against the migration of FAAN pensioners to National Pension Commission (PenCom).
The four unions including National Union of Air Transport Employees (NUATE)  Makurdi Branch, Association of Nigerian Aviation Professionals (ANAP) Makurdi Branch, Air Transport Services Senior Staff Association of Nigeria (ATSSSAN) and National Union of Pensioners (NUP) said rather than give concession to the four, the less viable airports in the country be concessioned.
Leaders of the unions, Joy Okeme (NAUTE), Jande Dickson (ANAP), Jolly Ogbada (ATSSSAN) and Akinde Ademola (NUP) area urging Nigerians to resist the planned concessioning of Port Harcourt Airport, Abuja Airport, Lagos Airport and Kano Airport.
The protesters who bore placards bearing different inscriptions expressed concern that the approach by the Aviation Ministry is secretive and has not taken into consideration issues of labour.
They also accused the Aviation Minister of attempts to destroy FAAN and send the staff away.
They claimed that previous concessions of government agencies such as NITEL, NEPA, among others have not been fruitful stating that the planned concession of the airports which generate huge revenue is selfish and a move by some greedy Nigerians to keep national wealth to themselves.
Speaking to Journalists in Makurdi on Monday, leader of NUP, Akinde Ademola pointed out,
 "We
 are not here to negotiate concession. Why should it be the four international airports that they want to concession, if there is no hidden agenda? Why not concession the less viable ones?"
The leader of ATSSSAN, Jolly Ogbada in his remarks said "They want to privatise these airports to their cronies and we are saying no to that. Another issue is the inappropriate migration of pensioners to PenCom."
They further urged the federal government to rescind the decision saying doing this would affect workers and pension of retirees and thereby cause untold hardship as most pensioners are currently faced with the challenges of unpaid arrears.