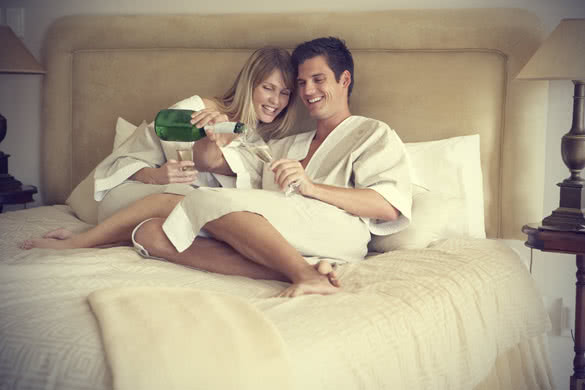 Women of the 21st century are not the type of ladies that are going to sit around waiting for their men to come up with some grand romantic gesture (no matter how much they deserve it). They are just as capable at planning a romantic escape as the boys are, so what are you waiting for? Here are some romantic ideas to try out with your man this weekend.
Don't go anywhere
Sometimes the most romantic place to be is your bed. Stock up on snacks and movies, turn off the cell phones and the laptops, change into something a bit more comfortable and vow to spend 24 straight hours in bed.
A disconnect from the world can be just what a couple needs at times to escape all the crazy stresses of the outside world.
Relax with a full season of that television series you both love on dvd, spend time playing, talking and of course there are other activities that can take place. Refer to the event as "island day," making your bed your island for the entire day. Before you know it your boyfriend will be begging you for a much needed island day.
Get lost
Nothing is sexier than spontaneity. So get on a bus or a train without any specific destination in mind and get off at any new location that looks good. Find a new restaurant in town, check in to a quirky bed and breakfast, learn to explore together.
Make the town your own little secret escape as a couple, or if you get off in a place you can't stand enjoy making fun of the situation together. The weekend will be a guaranteed bonding experience and definitely expand on your cooperation and communication skills as a couple.
Keep in mind if your man isn't the type to "go with the flow" then this may be an adventure you want to pass on, but if you're both equally adventurous pack a toothbrush and see where the road takes you. Expect to have some quality inside jokes for the rest of your relationship.
Eat, Pray, Love
Get inspired by the popular book/film and base your schedule around a day that's indulgent to the soul.
Try out a new cuisine; explore a new art exhibit or a free concert in the park, and finish the day with some romantic scenery at the beach or by just parking somewhere with a beautiful view of the stars.
Try and spend your day doing activities that involve all your senses, this will set the stage for even more sensory indulgence when you get home.
Fun on a budget
Challenge your creative side and plan a day trip on a ridiculously low budget and see how much fun you can have in your area.
This will require both of you to think out of the box, and will ensure lots of laughter along the way. Remember the best things in life are free, and there may be an abundance of free events and activities in your area that you have yet to discover.
Check out sites to see what's going on in your neighborhood. You'll be surprised at how much you can do with very little. Besides, it's the quality time that really matters.
Have a sporty day
Has your man spent most of your relationship seeing you in heels in make up (honey we told you that you look better without it), surprise him by trading in your girlie image for being a bit more athletic.
READ ALSO: Beware of sex dolls, expert warns
We know what you're thinking, sports isn't exactly what you would view as "romantic," but for him it just may be. Not to mention any kind of fun change is very sexy to a man, so seeing a new side of you is the ultimate turn on.
While we don't recommend couples boxing or anything too competitive (these have the potential to end very badly) we suggest sports like rock climbing or surfing.
Even if you're a pro at it, give him the opportunity to teach or help you out. Men love being able to feel like they are contributing or helping their woman out.
Take a Class
Learning together can be a seriously fun and sexy adventure, especially if it's something neither of you have ever tried out. Take a cooking class or a painting class, try a guitar lesson, dance class or even learn a new language together.
Make sure it's something that you can both practice on your own together. Going through the hurdles of learning something new will bring you closer and show you a great deal of how capable the two of you are at working together. Later on you can always involve other couple friends to be involved in the activity with you, making it a group date night.
What's important is that you're learning and growing together as a team.  Also, being able to show off as a couple later on is pretty cool.
Source:  youqueen.com