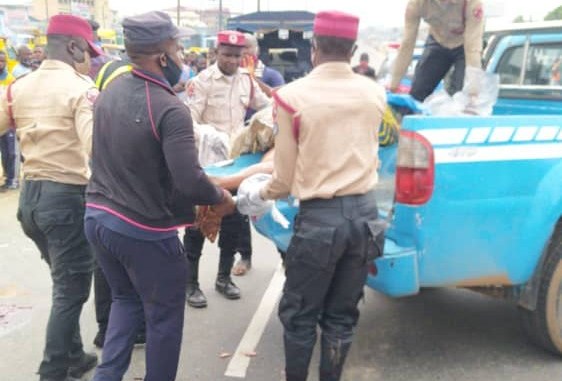 Three persons were confirmed dead on Friday while three others sustained varying degrees of injuries in a multiple accident at U-turn, by Total filling station, Ogere, on Lagos-Ibadan expressway.
Mrs Florence Okpe, the Public Education Officer, Federal Road Safety Corps (FRSC), confirmed the incident to journalists in Abeokuta.
Okpe said that the accident occured at 7:10a.m.
She said that the accident involved a Toyota Hiace bus marked MN A48 ZY, Man diesel truck marked ABC 682 ZW and Daf truck with registration number T-3756LA.
Okpe attributed the accident to excessive speed, which resulted in collision involving the three vehicles while the Man diesel truck was making a U-turn.
"A total of eight men were involved in the accident, three sustained injuries, two unhurt and unfortunately three persons in the bus were recorded killed," she said.
The FRSC public education officer said that the injured victims were taken to Victory Hospital, Ogere, while the deceased were deposited at FOS Morgue Ipara.
READ ALSO: 1.5bn People Live With Hearing Loss, Says WHO
She said that the Sector Commander, Mr. Ahmed Umar, commiserated with the families of the crash victims.
Okpe said that the sector commander pleaded with the motoring public to always drive defensively by anticipating the action of other drivers and observing road signs. (NAN)