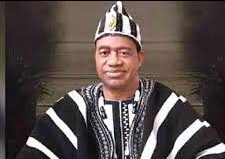 The Paramount ruler of the Tiv Nation, His Royal Majesty, Professor James Ayatse, has urged Independent National Electoral Commission (INEC) to engage and use permanent staff rather than using ad-hoc staff in the next elections.
The Tor Tiv stated this at an expanded stakeholders meeting over the Continuous Voter Registration exercise organised by the commission's office in Makurdi.
The paramount ruler, who spoke through the Tor Kwande, Chief Ambrose Iortyer, said the call has become necessary to help tackle rising cases of unemployment, insecurity and other criminal activities in the country.
He said with rising criminality being orchestrated by youths whom mostly are unemployed, one wonders if elections would take place in some areas where banditry, kidnapping and other violent crimes are the order of the day.
He, however, opined that the engagement of youth as as permanent staff during and after the election will reduce idleness and criminality to the barest minimum.
Governor Samuel Ortom of Benue State had commended INEC and Benue stakeholders in their quest to help deepen democracy in the country, saying the only sure way is through the ongoing voter Registration exercise.
Governor Ortom who called on politicians and other stakeholders to educate the people about the on going voter registration, called on INEC to hold frequent meeting to help create more understanding on recent development.
READ ALSO: DPR Seals 30 Filling Stations, 8 LPG Plants In Akwa Ibom State
Also speaking, the Speaker of Benue State House of Assembly, Mr. Titus Uba, commended INEC for introducing more polling units and called for more sensitization and support from the commission to make the continuous voter registration exercise a success in the state.
Mr. Uba therefore called of those Benue residents who are yet to register to ensure they do so.
Earlier, INEC Resident Electoral Commissioner, in Benue, Yilwatda Nantawe, said 1440 polling units have been created across wards in Benue.
He urged the stakeholders to go back and sensitize the people stating that the newly created polling units was not the hand work of any politicians but that of INEC's, cautioning that no one should use it to gain cheap popularity.
He also informed that INEC has not approved diaspora voting nor overseas registration.
He observed that the commencement of online voter Registration started since June 28, while the physical voter registration will take off on July 19, 2021.