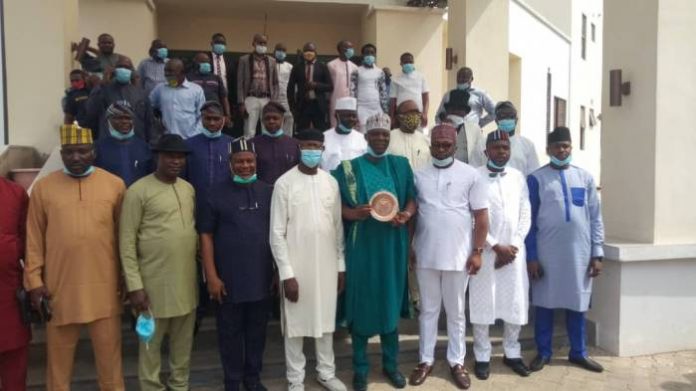 Speaker of the Kogi State House of Assembly, Mr. Matthew Kolawole, has described Governor Yahaya Bello as one man Nigeria needs now to unify the  country given the deep political and religious challenges almost tearing it apart.
The Speaker made this known when he visited the Benue State Deputy Governor, Mr. Benson Abounu, alongside some of its principal lawmakers.
Kolawole, who was led by his Benue state counterpart, Mr. Titus Uba, said they were in Benue to garner support for the Presidential ambition of Yaya Bello in 2023.
He said the Kogi State House of Assembly has sat and passed a resolution endorsing Governor Yahaya Bello to represent a marginalized region, the North Central, who are yet to produce neither the president nor the Vice.
According to him, the Assembly statistics reveal that out of the six political zones in the country  four or five have benefited from power either way as President or Vice president, naming the North- West, North- East, South-West and South – South, including South -East zones of Nigeria.
READ ALSO: Katsina Gunrunner Admits Selling Over 20 AK-47 Rifles To Bandits
Kolawole said though Kogi is an APC state but that their coming to Benue is to solicit support so that North-Central can be given slot to produce the next president.
The Kogi speaker who noted that the next speakers' conference will give their nod to the ambition of Bello also expressed the hope that the leaders in the North will endorse Yahaya Bello saying Kogi is part of the Northern state.
Responding, Deputy Governor Benson Abounu, while welcoming the speaker and his entourage, said Kogi state Governor grew in Benue until 2014 when he left to become the governor.
He promised to give them the moral support but not political in their quest for Benue to endorse Yahaya Bello.